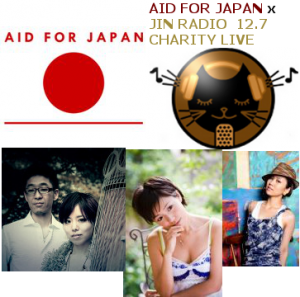 JIN Radio will be teaming with charity organization Aid For Japan for a charity music event this Sat Dec. 7th.
12月7日に特別音楽イベントのためにJINラジオとチャラティーグループAid for Japanをタイアップします
Its a great chance to hear good music from some of the coolest Indies artists while supporting a cool charity that provides opportunities for children orphaned after the Earthquake and Tsunami  in Tohoko Japan in 2011.
その時たくさんの良いインディーズアーティストを見ながら、東北地震と津波で親なくした子供達 のために働くグループをサポートするチャンスです
是非来て見てくれにゃー
(scroll down for more details-日本語は下記ご参照)
Featured artitsts:
Event time: 7pm-10pm at Shibuya Hobgoblin on Saturday December 7th (2000 yen)
Come on down and Enjoy!
……..
Aid For Japan is a UK based charity that supports orphans from Tohoku who lost both parents in the 2011 tsunami. As part of their efforts to make a difference, Aid For Japan organizes exchange trips between Japan and the UK bringing together Tohoku's orphans and volunteers from overseas who want to do their part to help.
JIN Radio will be hosting the event bringing in Japan indies musicians to entertain us while we get together for drinks. Entry fee goes directly to the charity to help fund their end-of-the-year events for the kids.
http://www.japanindies.com/
Entry: 2000 yen (payable at the door)
Live music
Great drinks and food on order from Hobgoblin
ーーーーー
Aid For Japanはイギリスを拠点とした、津波で両親を亡くした東北の孤児達をサポートする慈善団体です。活動力を発揮するため、Aid For Japanは日本の孤児達と、彼らのサポートを志願するボランティアを集め、日本–イギリス間の旅行を企画しています。
JIN Radioは日本のインディペンデント音楽のラジオステーションです。
今回JIN Radioはインディーバンドのライブイベントを企画します。皆で集まり音楽を楽しみましょう!
入場料は全て孤児達の年末のチャリティーイベントに寄付されます。
http://www.japanindies.com/
入場料:2,000円(入口にてお支払い)
ライブ音楽
英国パブ:Hobgoblinのドリンク、フードもあります!