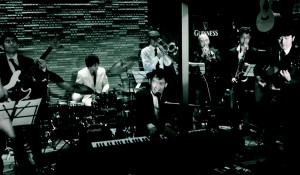 Urban Pop Rock band South Line Trippers began funking the Tokyo music scene in 2008 with their grooving melodies and hard hitting stereo sound.
In the band you find a group of guys with a purity of spirit.  And as an ensemble they follow a path to create an amazingly natural blend of  Pop, Jazz, Soul, and Funk styles all in the name of ROCK.
Check out their first album "SOUTH LINE TRIPPERS" available online via Amazon Jpn and iTunes.
You can also sample some of their music at South Line Trippers – OKMusic page
Highly Recommended**
…….
絶対的なメロディと爽快感!躍動するアンサンブル!スタイリッシュ&ソウルフルなアーバンミュージックを奏でる音楽集団・South Line Trippers!。通称「さすらい」。ジャズ、ソウル、ファンク、ポップスといった要素が渾然一体となったサウンドには、大人の無邪気さとスタイリッシュさが同居する。2008年結成。
なお、1stアルバム『SOUTH LINE TRIPPERS』は、現在AmazonおよびiTunes Music Storeに発売中
曲が彼らのOKMusicページに少し聴く事できるので是非チェック! 

大お勧めです**