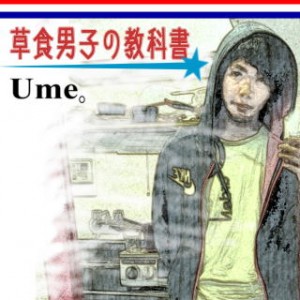 Fukushima native Ume。 (pronounced uumei) is a Hip Hop music influenced singer songwriter now doing his thing in the Pop Rock music genre.
He has appeared on music related shows in Japan. One of his songs was also chosen during an image song campaign contest by OLYMPUS. He is currently working indies gigs around the Tokyo area.
Hi latest album "Sou Shoku Dansei No Kyukasho" (Herbivore Men's Testbook) is available online now!
…………
福島県出身のHipHop系シンガーソングライター。
オリエンタルラジオ司会のTBS「オビラジR」に出演しCDデビューを果たす。また、PVではオリラジ藤森慎吾と競演している事もあり各新聞、メディアで取り上げられ話題となる。
2010年にはOLYMPUSイメージソングコンテスト受賞した他、現在ライブやイベント司会などフリーで活動中。
現在彼の3年ぶりのニューアルバム[草食男性の教科書]オンラインで発売中!