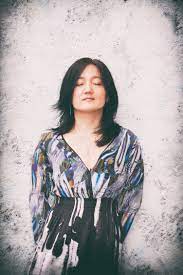 *New album release "Weavers" on 4/16/2021
Makiko Hirabayashi is a Japanese pianist/composer, based in Copenhagen, Denmark.  Since the release of her first trio album in 2006, Makiko has received wide critical acclaim as a personal voice on the international jazz scene. The fresheness of both her compositions and the trio's vibrant interplay has caught the ears of many listeners around the world.
In 2020, she was the recipient of the prestigious Honorary Award from the Danish Composers Association, for her work as a composer throughout the years.
Makiko Hirabayashi Trio, featuring drummer/percussionist Marilyn Mazur (Miles Davis Group 85-89, Jan Garbarek Group 91-05) and bassist Klavs Hovman, has been her main focus in the recent years, where she established her unique sound through performances at major festivals and venues throughout Europe and Asia. Their 4th album, "Where The Sea Breaks" was released in 2018 on Enja/Yellowbird Records, featuring the award-winning Danish trumpet/flügelhorn player, Jakob Buchanan on 4 tracks.
Since the beginning, Makiko has collaborated with a wide range of musicians on the jazz scene as well as the world music scene. She plays an active role in numerous projects led by Marilyn Mazur, and has worked with many of Europe's top notch musicians, including Enrico Rava, Norma Winstone, Nils Petter Molvær and Fredrik Lundin.
Makiko has released 7 albums as a leader. Her second trio album "Hide And Seek" won both Best Instrumental Album and Jazz Melody Award in Jazz Critique Magazine, Japan. Amongst her recordings with other projects is a duo album "Gong" with the American saxophonist Bob Rockwell,  and "Binocular" with trumpet/flügelhorn player Flemming Agerskov.
Makiko Hirabayashi was born 1966 in Tokyo, Japan, where she started playing piano at the age of 4. Spending 5 years of her childhood in Hong Kong – a cultural melting pot at the time, has had a lasting impact on her life. At age 20, she won a scholarship to Berklee College of Music in Boston. Her original intention to study film scoring quickly shifted towards improvising and composing on the piano, as she found herself immersed in the live jazz scene of Boston. Since 1990, she has been based in Copenhagen, Denmark. Her multicultural background and musical diversity is reflected in her music. Elements of jazz, classical music, Far Eastern music and Nordic moods are all molded uncontrivedly into an intriguing, compelling sound of her own.
Awards/Grants
2020
• Honorary Award, DJBFA (Danish Composers Association)
2020, 2007-2017
• Danish Arts Foundation's grant for artistic work
2010
• Jazz Audio Disk Award -Best Instrumental Album 2009 for "Hide And Seek" (Jazz Critique Magazine, Japan)
• Jazz Melody Award 2009 for title track, "Hide And Seek" (Jazz Critique Magazine, Japan)
1995
• Best Arrangement Prize, Public Prize and 3rd Prize with Sisters at Europ' Jazz Contest, Bruxelles
…..
マキコ・ヒラバヤシ
ピアニスト/作曲家
*新アルバムリーリス "Weavers" 4月16日2021年から発売
1966年東京に生まれ、4歳よりピアノ、9歳よりヴァイオリンを始める。中学、高校の5年間を香港で過ごし、このころから多種の文化に接し、世界への眼を開くことになる。1987年、ボストン、バ-クリ-音楽院より奨学金を得て渡米。主に作曲を学ぶためであったが、在学中にジャズ、即興の世界に強い影響を受け、演奏の道に力を入れるようになる。
1990年、ヨ-ロッパに渡り、コペンハ-ゲンを中心にピアニスト、作曲家としての活動を始める。ジャズシーンに限らず、ブラジル、キューバ、アフリカ、スペインなどから移住してきたミュージッシャンらと様々なプロジェクトを結成、幅広くライブ活動、アルバム製作を行い、経験を重ねる。95年、ヨ-ロッパジャズコンテスト(ベルギ-)において、クァルテット、Sistersとともにベストアレンジメント賞、パブリックアワ-ド、総合3位を受賞。
2001年、デンマ-クのトップミュ-ジシャン、パ-カッショニスト/ドラマ-、マリリン・マズ-ル(マイルス・デイヴィス グル-プ85−89)、ベ-シスト、クラウス・ホウマンを迎え、自己のトリオを結成。初のリ-ダ-作となるアルバム、"Makiko"(2006)が、ドイツの名門ジャズレ-ベル、エンヤよりリリ-スされ、デンマ-クをはじめ、ヨ-ロッパ各国で好評を得る。2009年、セカンドアルバム、"Hide And Seek"を発表し、ジャズ批評誌ジャズ・オ-ディオ・ディスク大賞、ジャズ・メロディ-大賞でW金賞を受賞。このトリオを率いてヨーロッパ各国を始め、エジプト、マレーシア、日本までコンサート活動を広げる。
トリオに並行してトランペッタ-、フレミング・エアスコウ、サックス奏者ボブ・ロックウェルとのデュオプロジェクトなど、個性的なミュージッシャンとのコラボレーションを重ね、合計7枚のリーダー作を発表してきた。サイドマンとしても、数々のアルバムに参加、エンリコ・ラヴァ、ニルス・ペッター・モルヴェア、アイヴィン・オーセットなど、優れたヨーロピアンミュージシャンとの共演が多い。
2020年、デンマーク作曲家協会(DJBFA)より名誉賞を受賞。