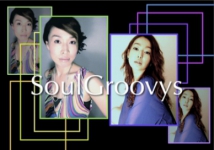 MAYUMI : words / vocalist. MIZUKI : words / vocalist / Model / actress NAOYA: composer / keyboard.
Is a 3 member Soul music unit which not only produces  their own music but other artists.
Lead singers Mizuki  and Mayumi, both established artists in their own right, came together to form their own unique groove with the help of producer Naoya.
With beautiful vocals and harmonies SoulGroovys is an up and coming group not to be missed.
…..
圧倒的な歌唱力を持つシンガーMAYUMI、モデル/女優として活躍するMIZUKIが織りなす、ちょっと異色な大人のポップユニットSoulGroovys
人々のココロがあったかくなる音楽を届けたい、それがSoulGroovysのテーマです!そんな想いが一つ叶いました。
MAYUMI & MIZUKIで作詞をした楽曲「明日へ〜つながる手」が、コナミスポーツクラブのCM曲として全国へオンエアされました。
そして、新曲「You&i」がぐるなびウエディングのWEBCMテーマソングに決定!ここにクリック
☆Mayumiこと千田真友美:シンガーソングライター
ソロアルバム「DACHICOHOLIC」や数々のHOUSEコンピレーションアルバムでボーカルを務める他、元BOOWY松井常松氏を始め、様々なアーティストのバックコーラスを手掛けるなど幅広く活動している。
☆Mizukiこと小山田みずき:女優/モデル/シンガー
主な出演作(2002年まで芸名「美月」で活動)
〈映画〉
『REAL-TOKYO』主役・『迷猫(MAIGO)』主役・『莟みし花(つぼみし花)』ヒロイン(菅原文太プロデュース)・『釣りバカ日誌』・『BROTHER』etc…
〈CF〉
カルカン・NEC・アイク・スズキ『スイフト』・日本コカコーラ『ラクティア』・『ジョージア』・富士急ハイランド・ミリオンカード・日本マクドナルド・GREE・サントリー『金麦』etc…