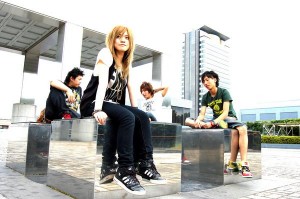 Established in the winter of 2004, Terubito is a four member band formed from a group that have been friends since Junior High School.
Collectively influenced by rock and R&B music stars, their music has a very soulful quality. This can especially be heard in lead singer Saori's impressive vocal arrangements.
They released their first mini album "Akira-Shine" in 2009, which is available at their live shows.
They are currently performing in and around the Tokyo area. Check them out soon.
ゼロフォーウィンター中学時代の仲良し4人組が集まった。それが「テルビト」
バンドメンバーの音楽の影響は結構ロックとR&B的だったなので、テルビトのサウンドは凄くソウルフルロックな感じあります。それがリードシンガーSaoriの印象的なボーカルを入れって特に感じます
2009年にファストミニアルバム「輝-Shine-」をリーリスして、今バンドのライブに買うこと出来ます。
現在都内に様々なライブとかに活動中、是非チェックしてくれ。