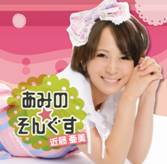 Indie Idol singer Ami Kondo aka. AmiDol started her musical journey in early 2010. Before that she had studied at various performance arts school in Japan for dance and acting.
Since her solo debut she has already released her first full album "Ami no Songsu" and is currently doing live shows around the Tokyo area.
With a high tempo Pop sound and strong vocals, the album is definitely worth a listen.
It can be bought through the Artists Creative site at: http://www.plus-one.jpn.com
or at her live shows.
……..
誕生日: 7月4日
星座  かに座
血液型 O型
趣味  香水集め、キティちゃんグッズ集め
特技  耳を折り畳む・早まばたき
資格  秘書検定3級・漢検準2級・書道3段・珠算準1級・暗算2級・普通自動車免許
新潟のSHOW!パフォーミングスクール(現在のニイガタ・パフォーマンス・スクール)にて演技・ボーカル・ダンスのレッスンを受けた後、上京。
玉川大学芸術学部パフォーミング・アーツ学科に進学。演劇・舞踊(コンテンポラリー・クラシックバレエ・日本舞踊)・声楽を実技と理論の両面から学ぶ。大学に通いながら女優として映画や舞台に出演する。
2010年春からアイドルシンガーとしてソロでも活動を始め、現在都内を中心にライブ活動を展開。2010年11月24日に初のミニアルバム『あみの☆そんぐす』をリリース。12月には地元新潟にて凱旋ライブも行う等、勢力的に活動中。
曲の試聴・CDの注文はこちらから
アーティストクリエイト+One
http://www.plus-one.jpn.com