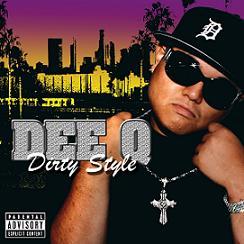 DEE Q's first step was to US(Atlanta) when he was 15.
At the age of 18, he started his own music in Los Angels.
Toured around Long Beach, Hollywood, Downtown LA.
His tune and high voice fascinated people regardless of race.
Only Japanese player gigged in 9.11CHARITY EVENT IN DOWN TOWN LA.
Back in Japan, he began doing event parties mainly in Shizuoka.                           He has  also done warm-up stages some big Hip Hop and R&B players of Japan including:
ZEEBRA、AI、DJ KAORI、DABO、DELI、HI-D、Tina、E.D.O、KATOU MIRIYA、Foxxi misQ、MOUSOUZOKU、BALLERS、DOBERMAN INC、G-PRIDE、LL BROTHERS、and A-KYIM
Nowadays his tune is reaching across the country.
In tokyo he started gigs in Shibuya and Roppongi with KIMI-E from SOUNDHOLICS.
Outside clubs, he's been rapping in outdoor raves such as NETZ TOYOTA.
His collaborations with hard core band SHADEZ OF GRAY and gospel singers are also notable. He has also appeared on different local  radio programs.
He released his first album 'Dirty Style'!! December 2007.
DEE Q's most recent effort is a collaborative CD with KIMI-E "Lookin For US?" released in November 2009 which is available in online stores now!
15歳の時にATLANTAへ単身渡米し帰国。
その後18歳の時に再度 LOS ANGELESへ単身渡米し、LONG BEACH、HOLLYWOOD、DOWNTOWN LAなど
色々な都市で多種多様な人種と共に多数のライブ・セッションを行う。
DEE Qの生み出し作り出すFLOWと一度耳にしたら忘れない甲高いHIGH VOICEが人種の壁を越えてリスナーを感動させ話題になる。
9.11CHARITY EVENT IN DOWN TOWN LAでは唯一日本人として参加し日本語と英語を混ぜた独自のスタイルが大好評を得る。
帰国後、静岡県内を中心にライブ活動を行い、県内で今までに様々なアーティストのFRONT ACTを努める。
ZEEBRA、AI、DJ KAORI、DABO、DELI、HI-D、Tina、E.D.O、加藤ミリヤ、Foxxi misQ、妄走族、BALLERS、DOBERMAN INC、
G-PRIDE、LL BROTHERS、YA-KYIM、・・・など地元静岡県内を拠点に小箱から大箱まで精力的に活動をしている。
最近では活動範囲を全国に移し、東京では自身も所属しているSOUNDHOLICSからKIMI-Eと渋谷・六本木・西麻布などのクラブ・ライブハウスにて精力的にライブ活動し、クラブ以外でもNETZトヨタの野外イベント、HARD COREバンド「SHADEZ OF GRAY」とのコラボレーション、ゴスペルチームとのセッション、ラジオ出演など活動範囲を常に広げている。
ついに音楽の街である地元静岡県浜松市からDEE Qが1st Album『Dirty Style』2007年にドロップしました。
現在:2009年11月からSOUNDHOLICSのKIMI-Eとコラボレーションアルバム「Lookin For US?」をリリース。今オンラインショップ、などで発売中。