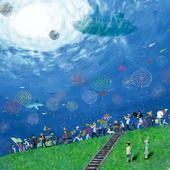 Tokyo native Kenji Fujita is  a multi-talented musician who plays the sax, guitar and piano. He writes and produces his own music using analog and digital media.
He 2006 he released his first album "Magnetic Pilgrimage" and without any promotion his single "North end" shot to to number 1 on the CRJ-Tokyo (College Music Chart in Japan) and another single "sleep walking" went to number 2 on the CRJ West charts.
He released his 2nd album in 2008 "Inryoku To Senryoku" (Attractive and Repulsive Force) to a similarly strong reaction.
Fujita's latest album "Kono Wakusei No Kougai" (The Planet's Suburb) was released in December 2009 and features an eclectic mix of sounds for the listener to enjoy. Check it out soon.
1981年東京郊外生まれの音楽家
慶應義塾大学文学部美学美術史学専攻卒業
ピアノやギター、サックス等複数の楽器及びテープ等のアナログ機器やPCを駆使し、一人で作曲、演奏、録音、ミックスまでを手がける。
2006年に磁気粉の匂いが漂うカラフルなテープコラージュで揺れる音像の夢想音楽集の1st『Magnetic Pilgrimage』を発表し、ノンプロモーションで無名の新人ながら同アルバム"North end"がCRJ-tokyoチャートで初登場1位、"sleep walking"がCRJ-westチャートで初登場2位を獲得。レビューが音楽誌"barfout"に掲載され、都内大型レコード店でも特設コーナーで 大きく展開される等、突如あらわれたアヴァンポップの新星として大きな反響を呼ぶ。
2008年には歌にフォーカスし、現実と童話的世界観の間を行き来する2nd『引力と斥力』を発表。アルバム収録曲"果て"がCRJ チャートで初登場一位、8週連続チャートイン、2008年の年間チャートでは3位に選ばれ、アヴァンポップの奇才として評される。
2009年12月16日に3rdアルバム『この惑星の郊外で』を海外にも活動の場を広げる音響作家"yuki kaneko"が主催する新進のアヴァンポップレーベル"balen disc"からリリースする。
待望の3rdはアナログテープで生み出される暖かみや童話的世界観はそのままに、歌が全面に押し出され、よりメロディやハーモニーの美し さに焦点が当てられたポップアルバム。
前作でもマスタリングを担当し、"maher shalal hash baz"や"松倉如子"のサウンドエンジニアとしても著名な"tsuki no wa"、"sound worm"の庄司広光がマスタリングのみならず、玉音放送でも用いられたリボンマイクや戦前の真空管オープンリールテープなどレアでディープな機材を駆使 したローファイかつハイファイな夢幻的音響効果を施し、サウンド面でも大きな深化を遂げている。
ロックやポップ、フォーク、クラシック、エレクトロニカなど様々な音楽的素養をかつてない精度で統合し、普遍的なポップ性を持つメロ ディーと滲む声、様々な楽器を用いて現実と空想をサイケデリックなポップ・ミュージックとして描き出すことに成功している。
アヴァンポップのみならず、ポップミュージックをアップデートする傑作がここに誕生した。