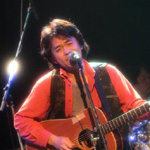 Singer Songwriter Satoshi Natsushi is the founder and head of the Yumemino-Onsenmura music label.
An experienced music artist, he made is major debut with CBS/SONY in 1985 with the LP "Wind Colored Lithograph". He went on to work with and produce artists from Japan and Hong Kong.
Currently he does a regular radio show on Nishi Tokyo 84.2 FM Every Sunday evening from 11pm Jpn time as well as an online audition collaboration with Myspace.
in Feb 2012 he released his first full solo album in 25 years "Catchball: Songbook Of My Life" featuring a collection of 12 moving songs. Check this veteran artist soon!
………
音泉村の村長。1985年CBS/SONYより木村聡の名でシンガーソングライターとしてメジャーデビューするも鳴かず飛ばず。その後作詞作曲・プロデュースを生業とするかたわら、現在は自主レーベル「ユメミノ音泉村」の村おこしに奔走中。
また、FM西東京(84.2MHz)「ユメミノ音泉村~音楽!源泉かけ流し~」(毎週日曜23:00)、Myspaceとのコラボによるオーディション番組「世界進出計画」(毎週木曜24:00)などでパーソナリティーも務めている。
作家として高橋真梨子、須藤薫、あんじ、サミー・チェン(香港)などへ楽曲提供。はやぶさジョーンズ、saori、irohaなどの作品プロデュースに携わる。
2012年2月22日、ついに25年ぶりのソロアルバム「キャッチボール~ソングブック・オブ・マイ・ライフ」をリリース!
人生を丸ごと詰め込んだ、極上の泣ける曲全12曲入り究極のソングブック!