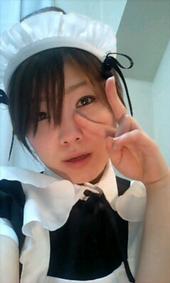 Kawaii (cute in Japanese) drummer/singer songwriter Azusa started the drums at the age of 12. The Koichi Prefecture native moved to Tokyo by the age of 18 where she studied at the Kunitachi School of Music. She began playing drum support for various bands as she honed her skills.
Her experiences led her to becoming the number 1 protege of Tetsuya Kajiwara, ex. drummer for the legendary Japanese punk rock band The Blue Hearts.
Later, following in the footsteps of her composer father, Azusa began writing her own music as well.
Though she has a cute look, voice and does the occasional Cosplay with her music (check her video), a strong rock drummer's heart beats in this young lady. Combining to make a unique musician to look out for on the Japanese indie scene.
あずさ
ドラマー&シンガーソングライター
12歳よりドラムを始め、18歳で上京。国立音楽院卒業後、
自身のバンドや様々なアーティストのサポートドラマーとして活動中。
新井田耕造氏率いる「ドラマーズ」に参加。
梶原徹也氏(ex. THE BLUE HEARTS)の一番弟子。
作曲家の父の影響で本格的に曲作りを開始。
以後、シンガーソングライターとしての活動も始める。
高知県出身
10月25日生まれ さそり座 B型
特技:回し蹴り・メイド
好きな食べ物:レバ刺し・生麩・生ガキ・おはぎ・我生のうどん