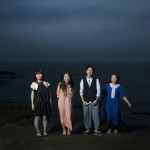 Formed in 2007, Chiina is a four member pop rock band based in Tokyo, Japan. Using instruments like the violin and cello bass to create unique music, blended with the strong vocals of Shiina Kyoku, Their sound is fun and immediately grabs you ears.
They released their first full album "GRANVILLE" in 2012 and our currently performing around the Tokyo area and overseas.
Check them out soon!
……
ピアノヴォーカル、ヴァイオリン、コントラバス、ギター兼マイクロコルグ、サポートドラムの
5人から成る独特の個性を放つグループ。ポップス/クラシック/ロック/オーガニックといった要素を
自由に操りオーケストラルな音が印象的で唯一無二の境地に達している。
アコースティックな楽器編成だが枠にとらわれずダイナミックなサウンドから繊細な表現まで多様な
演奏を得意とし、変幻自在かつ緻密な音楽性で独特な視点で捉えた歌詞やメロディーが特徴。
ライブパフォーマンスもパワフルでハッピーでポップで「チーナ」の音楽世界を表現している。
2012年7月に発売されたアルバム「GRANVILLE」に収録されている「アンドロイド」がヒューマン
トラストシネマ渋谷ほか全国公開された映画『まだ、人間』の主題歌にも抜擢される等注目を集める。
2013年5月にはmouse on the keys、きのこ帝国等とのカナダツアーも決定し、今後海外での活動も
視野に入れている。