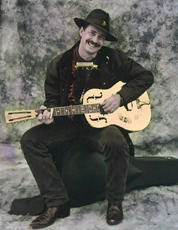 Steve Gardner is a bluesman, born in Mississippi and based out of Tokyo, Japan. He plays acoustic country blues on resonator guitars, blues harp, banjo, washboard and one string diddlie bows- solo and with the Bottleneck Blues Band– all over Japan, Mississippi and different areas of the American South.
He has released four CDs with a new one coming soon. His fourth album "Walking the Dog" is available online now.
His music is great on CD but for the best experience check him out live. Currently he is performing every first Sunday of the month at the English Pub "The Hobgoblin" in Shibuya, Tokyo and its a free event!
ミシシッピー生まれのブルースマンスティーブ・ガードナーはミシシッピー・デルタの音楽の魂を人々に伝えたいとの気持ちで今東京を中心に全国各地で演奏活動を続けています。
2003年から4枚のCDをリーリス今年もアルバムを出すのは準備中。2008年のアルバム"Walking the Dog"今オンラインで発売中
CDは素晴らしいですが、ライブまた特別な感じでおすすめ。彼が今毎月の第一の日曜日、渋谷にある"The Hobgoblin"っていうのEnglishパブで無料ライブをやってます。チェックしてくれよ!