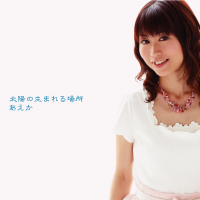 Singer-songwriter Aeka has been making a name for herself in the indies music community of Japan for awhile now. Her mix of upbeat, warming music and melancholy, thoughtful ballads have grabbed her many fans and attention as she has appeared on TV and even had a popular internet radio show.
She performs regularly at open live events and in one woman shows in the Tokyo, Saitama, and Kanagawa areas.
Aeka's albums are available now in Japan stores and on iTunes.
…….
……
あえかのアルバムが現在CDショップとiTunesで発売中
生まれ、育ち:埼玉県春日部市→福岡県北九州市小倉→埼玉県所沢市→埼玉県春日部市
血液型:AB
誕生日、星座:2月20日、うお座
最終学歴:
清泉女子大学スペイン語スペイン文学科
仕事歴:英会話教室スタッフ→こども英会話講師
→コールセンターSV→シンガーソングライター
趣味:お笑いを観ること
特技:こどもの遊び相手
曲が浮かぶ場所:お風呂、トイレ、電車
好きなアーティスト:谷山浩子、
GOING UNDER GROUND、ゆず、中島みゆき
好きな動物:わんこ
嫌いな動物:ヘビ
好きな食べ物:チョコレート(特に苺味)、アイス(特にコーヒー味)、野菜スティック
嫌いな食べ物:レバー、甘いのとしょっぱいのが混ざってるもの
好きな色:すみれ色
心に残っている本:『聖なる予言』