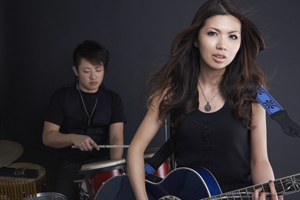 "unnatural" is a Pop band based in Tokyo,Japan, active since 1999.
The band features Itsuka, a talented "singer-song-writer"
and Mitsu, a skillful "Rhythm-Programmer".
They both grew up in Tokyo, spent some time in other countries,
got stimulated by various kinds of music and culture.
Songs are written in Japanglish,telling stories about Love & Life
with a bit of cynical huomor.They fuse different kinds of music styles
such as Country,Hiphop,Reggae,Surf,EMO into thier own Pop style.
"unnatural" is also known as an organizer of popular events and a
producer of other artists. They have been playing and recording with
many major artists and have gotten a high reputation from them.
"unnatural" had their 10th anniversary in 2009 and released their
first mini album "DIP". The lead track "NOW"was a theme song of
WOWOW weather forecast program "Weather Clip" for three months.
The ballad "Threapy"got the "Grainy Film Prize" @ART FILTER CONTEST
presented by Myspace & OLYMPUS.
Since they are skilled at digital systems and social networking services,
they've been collaborating with well-known Japanese comapanies,
such as Olympus Imaging, Ishimaru-Denki in Akihabara
and producing various kinds of USTREAM programs.
unnatural had their 3rd official live event in May and are now set to release a new album within 2011!
And..Now their songs are available on iTunes globally.
Definitely a band to check out soon.
…..
カントリーミュージックを軸にお洒落ポップスを奏でる男女ユニット
稀代のバイリンガルシンガーソングライターのItsukaと
次世代を担うリズムメイカーのMitsuから成る男女ユニット
Itsukaが生み出す洋楽ライクなメロディと、ジャンル/言語を越えた風刺的な歌詞に、
Mitsuのスキルフルなリズムとトラックメイキングが絡む。
自身のルーツであるカントリーミュージックにRock、Hiphop、Reggae、Surf、EMO等の
スパイスを加え、お洒落でユニークなPopsを作り上げている。
特筆すべきは、そのセルフプロデュース能力の高さ。
作詞・作曲・編曲等のサウンド面は勿論のこと、
USTREAM, TWITTER, FACEBOOK等、最先端のコミュニケーションツールを巧みに操り、
活動の場を広げる姿から、ITスキルの高いデジタルユニットとしても知られている。
良質なオリジナル楽曲を多数取り揃えていることから、
音楽業界内でのコラボレーション話のみならず、多方面から、
共同プロジェクトへの誘い等のラブコールを受けている。
現在、国内外問わず、各企業・団体から注目されているマルチユニットである。
5月25日に、第3回目になるワンマンライブ、
【One Woman-One Man Show #3】@渋谷Star Loungeで決行。
写真、動画を絡めたエンターテイメント性の高いショーが高評価を得る。
年内に、ニューアルバムをリリース予定!