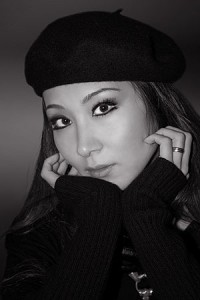 Tamala was born in Osaka and raised in Nara. Most of her family belongs to Japanese classical entertainment called "UTAZAWA" from Edo period.  Her aunt was a backing vocalist for Haruo Minami (A legend in Japanese musical history), and her mother was also a songwriter. She grew up in a music loving family environment and has listened to jazz, bossa,R&B since she was 2 years old.
She began dreaming to create her own music that didn't exist in Japan yet. In her teenage years she began singing at clubs,lounges and jazz cafes at hotels in Osaka and later moved to Tokyo where she joined various jam sessions, wrote songs and collaborated with Mabanua and Fabio Mobile.
She joined in Mabanua's November 2008 album release "Done Already" as the only Japanese singer /co-writer on an album that featured AKIL THE MC of JURASSIC 5、Eshe of Arrested Development, Kev Brown and Nicholas ryan Gant. The album entered at number 3 on Japan HMV and TOWER RECORDS Top 10 Hiphop / R&B albums and "him feat.Tamala" was the number 1 downloaded song from the album on iTunes.
Tamala also works as a lyricist for Japanese pop artists and produced a hit tune for RSP(Japanese pop group).  She is also the prize winner of myspace starz audution in 2009, studio apartment vocal audition in 2010,Fred Perry contest in 2010.  She is currently working her first album.
**In 2011, Tamala moved to Finland, released her debut studio album, Cosmology (2011), which peaked within the top10 of iTunes R&B chart in Japan. In 2012, she joined Kenichiro Nishihara's 3rd album Illuminus (2012), which peaked within the No.2 of TOWER RECORDS Japan general chart.
奈良県出身。 日本の古典芸能である、哥沢の家系に生まれ、親族の多くが三味線プレイヤー兼ボーカリスト、叔母は故・三波春夫の元バックコーラス、母は元シンガーソング ライターという環境で育つ。幼児期よりオスピー(Oscar Peterson)とAstrud Gilbertoを子守唄代わりに聴いて育ち、jazz、ボサノバ、R&Bに親しむ。初めて買ったCDが、ごく初期のネオソウル、そこからはネオソウル一 筋。いつしか自身でも、それらに迫る音楽を創造したいと思い始める。
10代の頃、大阪音大で教鞭をとっていたジャズドラマーやジャズピアニストに声をかけ られ、大阪のジャズクラブ等で歌い始める。jazz、hip hop、R&B、数々のミュージシャンと共演、何千回とライブ経験を積む。2006年に上京後はセッションをメインに活動を行いながら、自身のオ リジナル曲を制作、mabanua、Fabio Mobileらの楽曲にも参加。
2008/11/19にリリースされたトラックメイカーmabanuaのアルバムでは、JURASSIC 5のAKIL THE MC、Arrested Development のEshe、Kev Brownなど、米HIP HOP のレジェンド達が参加する中、無名かつノーコネクション、唯一の日本人ボーカリストとしてアルバムへの参加が決定した。またその際にArrested Development の Eshe の仮歌を担当し、そのメロディラインがEsheに高く評価され、作品に起用される。尚、このアルバムはHMV、TOWER RECORDS洋楽HIP HOP、R&Bチャート3位、iTunes Music Store(HIP-HOP)3位を記録、中でもHim feat. Tamalaはitunesランキングにてアルバム中トップダウンロードを樹立。
また、作詞家としてJ-popのアーティストに楽曲提供、TV番組「ゴゴサタ」のエンディングテーマとして採用される(RSP/アンマー カップリング曲 you're my friend)。 2009/12/1、Polandのuniversal records傘下のmagic recordsより配信されたコンピレーションアルバム「ram cafe 4 」に、唯一の日本人ボーカリストとして参加 (参加artist:Nat King Cole 、エイミー・ワインハウス、Zap Mama、Lizz Wright、Bebel Gilberto、Bobby Mcferrin、James Hunter 等)。2010年、Studio Apartment とMyspace開催の楽曲オーディションにて、優秀賞を獲得。また、高橋幸宏が審査員をつとめるFred Perry 楽曲コンテストにて、応募総数1609曲の中より受賞曲として「tonight」が選ばれ、デジタル配信他、全国のFred Perry直営店舗内BGMとして放送される。