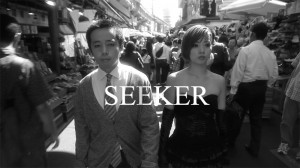 The band SEEKER has been an up and coming R&B Hip Hop group on the Kanto music scene for the last 5 years.
Featuring track maker / rapper Naoya, vocalist Aya and support bassist ERIKA SATO; their aim has been to make good musc regardless of genre.
And they are doing just that with the groovy combo of Naoya's rap flows and Aya's sweet whisper vocals.
Their 2nd single "imaimaima" is available on iTunes Japan now!
……
ジャンルレスな音楽を作る全ての音楽家の共通するアイデンティティーは、間違いなく「良い音楽を作る」事だ。
常に良い音楽を表現する事のみを追求し続けている。
Rap,Track makerのNAOYAに友人は探究者という意味を持つ、SEEKERという名前を名付けた。
Singer aya、Support bassist ERIKA SATOをメンバーに加え、
都内近郊でのLIVE活動や、フリースタイル大会での上位入賞、TV CMタイアップ
(BSハッピーチャンネル モガミ商事挿入曲)、
地元 千葉にて今年5周年を迎えるSEEKER FOR PEACEを主催等、精力的に活動中。
HIPHOPの本質の一つである雑食性を唯一無二のメロウでソウルフルなセンスで消化し、
一流プロバンドミュージシャンとのセッションから生み出す、
NAOYAの音楽と魂を込めたRap、 天性のウィスパーボイスを持つayaのボーカルが合わさり表現される世界は、
現在の音楽シーンを必ず賑わすに違いない。