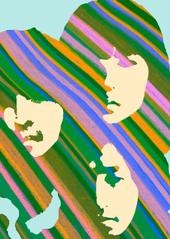 Lamp is a great band with smooth yet upbeat sound. Formed in 2000 with members
Taiyou Someya (composer / guitarist / conductor / producer),
Kaori Sakakibara (vocal / flute / accordion),
Yusuke Nagai (vocal / multi-instrument-player / composer).
They have released 5 CDs. their 1st album "Soyokaze Apartment 201 (Breeze Apartment 201)" in 2003, 2nd album "Koibito e (To My Lover)" in 2004, 3rd Album "Komorebi Dohri Nite (On The Sunlight-Through-Trees Street)" in 2005, Original Compilation Album "Zankou (Remain Of The Light)" in 2007 and 4th album "Lamp Genso" in 2009.–All of their CDs were released by the MOTEL BLEU, a Japanese indie label.–
They released CDs also in Korea and had live shows there in 2006 and 2008.
They are currently recording their 5th album.