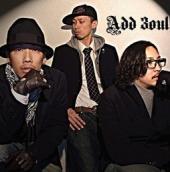 YUTA, NACK and HiDE make the R&B vocal group Add 3oul. Formed in 2006 their music is a mix of ear pleasing melodies and sweet ballads. Which is balanced out with high energy dance party tunes.
Each of Add 3oul members have been influenced by an eclectic mix of genres and musicians, helping them to form a unique sound. They have cultivated their bodies to be distinct instruments with a passion for song.
Currently they are performing around the Tokyo area and have released a 2nd anniversary mini-album "LUMP of 3OUL". Check them out soon.
Add 3oul
R&Bを土台に、1度聞いたら口ずさめるメロディーとそれと交わる心地いいコーラス。 美バラード。
アドレナリン大放出必至のアップ。一気に会場を明るくするパーティーチューン。
空間に溶け込み自然に乗り踊れるミッド。
幅広いジャンルもメンバー3人それぞれの"体"という楽器を通り、オリジナルと化して、熱く歌い上げる。
現在新しいミニアルバム『LUMP of 3OUL』発売中
―2nd ANNIVERSARY ALBUM― 『LUMP of 3OUL』 (全5曲) ◆
"12/10(水)"発売開始!!1000枚限定!
Add 3oul結成2周年を記念したミニアルバムが待望のリリース!!
全5曲入り。 1000枚限定プレス!
LIVEで盛り上がるUP曲から、ハーモニーが心地いいslowな曲まで。
アルバムのタイトルにもなっているように、3人の魂を詰め込んだ
曲達の塊!
以前、300枚限定でデモを配布した「I just know it」はトラックを変え、
歌い直して収録されている。
さらに今回のアルバムのために制作した新曲
「HEROES feat.HIDE ORIGINAL」は普段から親交の深いラッパー
"HIDE ORIGINAL"を迎え、豪華なPARTY TUNEに!
楽曲&リリックはもちろん、ジャケット・レーベルデザインまで自分達
で行った完全セルフプロデュース作品!!!