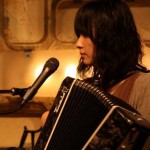 meso meso is a unique solo unit which features the sounds of the talented Yumiko. Creating music from various instruments including the guitar, piano, accordion and even toys.
In 2008 she released her first album "mitten" with Lacies Records, a UK label founded by The Boats Andrew Hargreaves.
She released first 2nd album (1st in Japan) "Yacca" via Inpartmaint Inc.
She is currently doing solo, trio and quintet show around the Tokyo area. Check her soon!
…….
ギター・ピアノ・アコーディオン・グロッケン・ピアニカ・声・おもちゃなどのアコースティック楽器から音楽を作り出す、ユミコのソロユニット。
2008年 The BoatsのAndrew Hargreavesが主催するイギリスのレーベルLacies'Recordsから1st album"mitten"をリリース。
2009年Yacca / Inpartmaint Inc.より初の国内盤となる2nd album"spoon"をリリース。
ライブでは、ソロ~トリオ~クインテットと様々な編成で演奏。
ソロ活動の他、トクマルシューゴバンドでアコーディオン、メロディカ、グロッケン、コーラス、おもちゃを担当している。