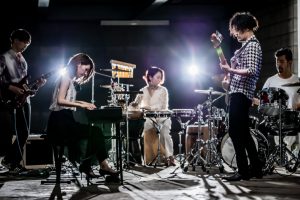 【m.s.t.】- Make the Scenery Tune
Jazz based band m.s.t started as a unit with Pianist Shoko Mochiyama and Bassist Koya Manaoki in 2011.
With original songs based around everyday experiences, their scenic and thrilling sounds quickly enthralled audiences. Their classical based music was established during their University years but they later went on to include Jazz standards and Movie soundtracks into their performances.
m.s.t has released albums nationally in Japan and continue wow their audiences at live events.
Their most recent full album Days was released in 2019 can be found on Apple Music and Spotify
【m.s.t.】(Make the Scenery Tune~景色に音を~)
ピアニスト持山翔子とベーシスト小山尚希とユニット。2011年活動開始。
日常の小さな出来事をテーマにしたオリジナル曲たちは、叙景的かつスリリングな展開で観客の共感を得ている。
音楽大学出身の二人によるクラシックをベースにした独自のアレンジで、ジャズスタンダードや映画音楽なども演奏。
ピアノトリオでのアルバム『time of doze(2011)』『predawn~景色と連なり~(2013)』七人編成の"m.s.t.ArcusOrchestra"(ピアノ、ベース、ドラム、ヴァイオリン、トランペット、トロンボーン&ボーカル、ヴィブラフォン&パーカッション)として『Visionarium(2014)』、ボーカルSara Rectorとのコラボレーションアルバム『You Are Loved(2015)』を発売。
国際作曲コンペティション(ISC)2015にて、"Karkinos"(『predawn~景色と連なり~』に収録)がファイナリスト選出。
2017年、ワーナーミュージックジャパンよりミニアルバム『Pianium』『緑と風』発売。(全国タワーレコード限定)
Jazz Life DISC GRAND PRIX 2017 ジャズ・アルバム・オブ・ザ・イヤーにてNew Star賞を受賞。(『緑と風』)
かわさきジャズ2017メインステージ、ミューザ川崎シンフォニーホール大ホールにて、ピアノトリオ+ストリングスカルテットの編成でプレアクトを務める。
2018年神保彰氏(Drums)やNAOTO氏(Violin)をスペシャルゲストに迎えてのライブをそれぞれ行なう。
ラ・フォル・ジュルネTOKYO 2018に出演。
2019年4月、約8年間の活動集大成ベストアルバムを Playwright レーベルより配信とLIVE会場限定でリリース。(後に全国タワーレコードにて販売開始)
2019年8月、ベーシスト・プロデューサー亀田誠治氏が実行委員長を務める「第一回 日比谷音楽祭」にインストステージ"HIROBA"に出演。
また、Saxアンサンブルユニットsax tripletsとのコラボレーションLIVEを始め、野呂一生(gt)率いるCASIOPEA 3rd、井上銘(gt)率いるSTEREO CHAMPとのジョイントLIVEも行い、好評を得る。
2019年11月、ピアノトリオにギター、パーカッションを加えた新編成でのNewアルバム"Days"をリリース。
2019年〜m.s.t.シンガーソングライター竹澤汀(ex.Goose house)とのプロジェクト"Cinématographe(シネマトグラフ)"の活動も精力的に行なっている。