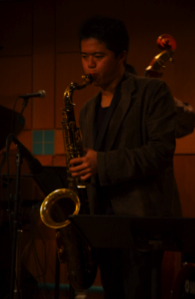 Official Page (Eng ・Jpn)
Mitsuru Hirayama is a saxophone (Ts/Ss/Fl/Cl) player, composer, who was born in Atsugi Kanagawa Japan.
Mitsuru began to play saxophone at the age of 18. He played guitar before starting saxophone. He loved American Rock Music in his high school days. He studied saxophone, jazz harmony, and Be-bop style improvisation technique in his college days at club activities called "jazz Ken".
Then, he organized his group and played his original tunes around Yokohama.
He went abroad to Boston US to study music at "Berklee college of Music" at January 2006. He traveled to Hungary to participate International Kodolanyi Jazz Competition. His Group The Saxolin Quintet was selected as finalist by the July.
He won the 3rd prize as the result. He loves to perform and express himself with his music. His composition is a piece of his life.
Be sure to check out Mitsuru Hirayama's first album "Saxolin" available via CD baby now.
…..
Tenor sax, soprano sax, Alt sax, Flute /Composer/Arranger
神奈川県厚木市出身
1997年関東学院大学入学。サックスを始める。在学中に演奏家としての活動をスタート。
同校卒業後木管奏者の設楽圭司氏にサックスとフルートを師事する。
2006年1月11日渡米
バークリー カレッジ オブ ミュージックに留学。 サックスと作曲編曲とジャズの即興演奏を学ぶ。
2008年12月下旬、日本に帰国.日本での活動を再開。
2009年 5月6日〜11日
自己が率いる Saxolin Quintet にてハンガリーにて開催された
International Kodolanyi Jazz Competition に
自己グループSaxolinにて本選出場し3rd Prize を受賞。
Ed Neumeister氏 Antonio Sanchez氏 János Gonda氏らから好評を得る。
現在東京都内横浜を中心に勢力的に活動中
そしてファストアルバム「Saxolin」今オンラインショップCD Babyで発売中!