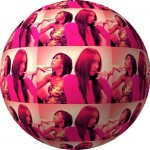 Ladies Hip Hop unit ARTSCAPE officially began in '99 when MC MINEKO connected with her friend RURIKO.
DJ MAMI joined the group in 2004 and they began putting music out via indies labels.
With a speedy flow and unique groove sense, its a great example of cool Japanese Hip Hop from the ever rare female group.
Check out their music online via Mypace or Audio Leaf.
……….
99年、当時ソロMCとして活動をしていた「美音子」が幼い頃からの親友である「RURIKO」に声を掛け「ARTSCAPE」としての活動を開始。
'04年に入ると、主に千葉や都内で活動していた「DJ MAMI」をLIVE DJとして正式に迎え入れ「美音子」、「RURIKO」の2MCと「DJ MAMI」のDJという現在のメンバー編成でのフィメールユニットとしてのStyleが形成される。
主な活動拠点である、千葉や都内を中心に数々のクラブイベントはもとより、ゲストアーティストと共Big Partyへの出演を経て、'06年には、地元千葉のアーティストだけに留まらず、多方面に楽曲を提供するトラックメイカー「ISZ」のトラックを中心にオリジナル楽曲での制作を開始する。
'06年9月20日には、インディーズレーベル「Tntc Recordings」からリリースされたコンピレーションアルバム「Black Market Vol.1」のM-13に「No More」という楽曲で参加。
同曲は着うたとしても、「ハイパー生音J-Pop」で独占配信され話題となった。
同年11月には、某有名スポーツ用品店等で取り扱われている、サーフィンDVD 「SASHIMI」シリーズの「まんぷく」に「TRAIN」を楽曲提供。
メンバーの「美音子」は、ラップはもとよりシンガーとしての役もこなし、また、独自の感性が生み出すリリカルなコンシャスラップでも定評がある。
一方の「RURIKO」は、シニカルな表現を持ち味としたラップスタイルが主で、この2人の内面、外見共に真逆とも言える異なった色が絶妙に調和される事により「ARTSCAPE」としてのオリジナルスタイルが確立される。
千葉のクラブシーンにその名を刻むクラブ、「STAR NITE」のアニバーサリーイベント等の多くのビックイベントにも軒並み参加。
地元千葉のHIP HOP勢は勿論の事、各方面のアーティストとの交流も深い。