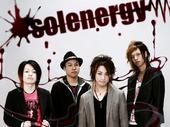 Japanese rock band solenergy officially organized in May,2007 and started doing live shows in the Shibuya and Shinjuku areas of Tokyo.
In November,they recorded the independent CD "parachute" and "sa yo na ra" selling over 100 CDs at a live music club.
They made their big debut in December 2008 following it up with the release of their 1st CD in January 2009 "Nakimushi Lion" They went on to tour Japan and are now performing regularly in and around the Tokyo area.
Their songs, like their name, are full of energy and fun to listen to. You can check them out on itunes Japan now!
バンド名は聞きなれない単語であるが、独自の造語であり、深い意味を持つ。
[sole]=[たった一つの]と[energy]=[エネルギー]で、「どこにも存在しない、
僕らだけの強い力」という意味と、「sol」=「ローマ神話の太陽神」よりきている
ことから、「僕らの音楽で世界中を照らしていく、みんなのエネルギーの源で
ありたい」という願いが込められている。
☆無料着うた、着うたフル好評配信中!!
着うたダウンロードは、 こちら、
着うたフルダウンロードは、 こちらからどうぞ!!!
2007年5月、結成。渋谷、新宿を中心にライブ活動を開始する。
11月、自主制作両A面シングル「パラシュート・さよなら」をレコーディング。
ライブ会場にて販売。限定生産100枚を完売する。
2008年5月、結成一周年を記念して、初の自主企画イベント、
「solerking vol.1~一期一会~」を開催。
そして12月、メジャーデビュー1stマキシシングル「ナキムシライオン」を
日本コロンビアよりリリース!!
2009年1月、全国21ヵ所22公演を回る「ナキムシライオン」のレコ発ツアー、
「Enjoy Sound Of Lion TOUR 2009」を決行。
3月、ツアーファイナル・ワンマンライブ「solerking vol.2~獣王無尽~」を
原宿ASTRO HALLにて行い、大盛況のうちにツアーを締めくくる。
5月、横浜開港150周年記念テーマイベント「開国博Y150」に参加。
8月、関東のライブハウスを中心に7ヵ所を回る、真夏のショートツアー
「solenergy summer stanp card tour」を決行。
10月、POP☆UNITEDとの共催イベント、3マンライブを開
ライブのスケジュール
2009/12/18(金)新宿RUIDO K4
※ オープニングアクト出演!!!
『リモ☆with SAVANNA P.K. ORCHESTRA 初ワンマンLIVE!!』
OPEN 18:00 /  START 19:00
前売:¥2500 / 当日:¥3000
問い合わせ先 TEL:0337801010
★ 2009/12/22(火) 川崎BOTTOMS UP
OPEN 18:00 / START18:30
solenergy出演時間20:30~
問い合わせ先 TEL:0442467869
★2010年1/22(金)新宿HEAD POWER
詳細未定
★ 2010/1/28(木)高田馬場PHASE
詳細未定
問い合わせ先 TEL:0359112777
★ 2010/2/25(木)新宿RUIDO K4
詳細未定
問い合わせ先 TEL:0359112777
※ 他公演は順次、決定次第UPします。
全ライブチケット予約受付中!!! 問い合わせ info@solenergy.jp