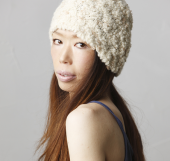 Vocalist DEE CHIKA started playing piano at the age 0f 3 and writing music when she was in elementary school. She made her first demo tape in Junior High (amazingly the melody from her first Major single release JUST WANA HAVE was written in the same period).
In 96 she moved from her native Fukuoka to the Tokyo area where she worked club events as staff while continuing to make music.  She started taking part in various events from small to major as an artist and was eventually described by local media as "a singer with great prowess".
Since then she has become well recognized for her skills releasing her first album "Kaeru Michi"-(The Road Home) in 2002 followed by a string of guest appearances on various albums.
In 2010 DEE CHIKA released some exclusive singles.
Check her official site for more!
…..
3才の頃から、Classic Pianoを習い始め、小学生で作曲を始めた。
中学生の頃、DEMOデープ制作を始め
(ちなみに、デビューシングル『JUST WANA HAVE』のDメロは中学生の頃のもの)
高校では音楽の専門課程で声楽を専攻。

96年に静岡県清水市より上京。
クラブイベントでスタッフ・ワークをこなしながら音楽活動を続け、徐々に話題となり始める。
以降着実に出演イベント数を増やし、大規模イベント出演の機械にも
恵まれるようになり、
この頃からマスコミ各誌で『~本当に歌唱力抜群の~』等と紹介され、
その実力はクラブ界隈で一目置かれる存在となった
2002年6月
1st.ALBUM『帰る道』リリース。
アレンジに渡辺貴浩(Key/元Vibrestone)迎え
ギターの土屋公平(元STREET SLIDERS)等、名プレーヤー達が結集し、
DEE CHIKAワールドの一つの完成型が生まれた。
土屋公平とのレコーディングセッション。
土屋公平と吉田建のアルバムにシンガーとして参加 、ライヴ出演等。
2003年6月
コンピレーションアルバム「STEEPIN'THE NEIGHBORS~Japanease Meets Dreadbeats~」参加。
2003年9月
Dear…feat.DEE CHIKA
2003年10月
コンピレーションアルバム「Funk Juicer」参加。
2006年
静岡FM(K-MIX) ラジオ番組「DEE CHIKAスクランブル」の
パーソナリティーを務める。
2008年
レゲエコンピレーションアルバムやカバーアルバムの参加。
2009年
12/27 放送 TBS今田耕治の「クイズ!イマジニア」エンディング曲に
『レイン』が選ばれる.
この作品は本名の「CHIKA」でリリースをしている。
2010年
配信でしか聴けない衝撃のハウスチューンとして『レイン』配信スタート
作曲は柴咲コウ、中島美嘉、松田聖子など多くのアーティストに曲を
提供しているツワモノ『林浩司』が手がけ業界でも話題の作品となる。
現在 作詞、作曲、ギターリスト土屋公平が結成したバンド『R◆B Dimensions』に参加するなど都内を中心に活動中。