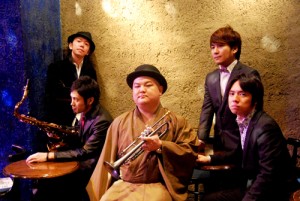 5 member jazz band TRI4TH officially started in 2006. With a hard-hitting performance style backed by stylish technique, they have certainly been making a name for themselves over the past few years in Japan.
By 2009 they were featured in various compilation albums including "Club Jazz Digs Lupin The 3rd"  and more.
in 2010 they released their first album, self titled "TRI4TH" and in late 2011 their first cover album "Warabe Jazz".
Both albums can be found on Amazon Japan or iTunes so be sure to check their groove soon.
……….
2006年より活動を開始。
迫力あるライブパフォーマンスは、造り込まれた楽曲と確かなテクニックに裏打ちされている。
2009年3月に、須永辰緒主宰レーベル"DISC MINOR"からアナログシングル「TRI4TH plus EP」でデビュー。以降「Club Jazz Digs LupinThe 3rd 」「NOT JAZZ!! BUT PE'Z!!! 」他、多数のコンピレーション・トリビュートアルバムに参加。Remixも多く手がける。
2009年11月には、脚本・三谷幸喜、音楽監督・小西康陽ミュージカル「TALK LIKE SINGING」に出演、東京・ニューヨーク公演に参加する等、幅広い活動を展開する。
2010年8月、プロデューサーに須永辰緒、ゲストにJukka Eskola、Max Ionataを迎え、ファーストアルバム「TRI4TH」リリース。
2011年7月、i-tunesよりOCTET Sunaga t『キエフの空 feat.Jukka Eskola-TRI4TH』 をリリース。
2011年11月には初のカバーアルバム「わらべJAZZ」をリリースする。
現在TRI4THの音楽がAmazon JapanとiTunesでも見つかること出来ますので是非チェック!