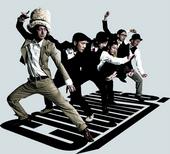 In 2005 a group of young musicians decided to bring their talents together to form a band. They each brought their own styles and influences to the group including rock, funk, soul and jazz. The band Chunky 6 was born and have merged these styles together to make their very unique sound.
In 2007 they were signed under Victor' Entertainment's Rookie Star label and continued to develop.
In 2009 they released their first album self titled "Chunky 6" to critical acclaim.
Their new album" Beverly Six :Original Soundtrack" was released in 2010 and is on sale now in online shops and on itunes Japan.
With a tight band, the soulful vocals of Spam Sakumoto and a sound unlike any heard in the current J-pop genre Chunky 6 continues to build a strong fan base and give us some very funky music. Recommendation: See them live!!
作元スパム(vo)
織本コウスケ(b)
坂入ジュニアJr.(d)
小川ロイヤル(g)
アベイ哲(org,syn)
サーカス田中蟹蔵(p)
2005年結成。
メンバーそれぞれが影響を受けてきたロック、ファンク、 ソウル、ブルース、ジャズ、ディスコなどの
要素を柔軟に取り入れた オリジナル・サウンドで、ライヴハウス、クラブ、バーを 問わず活動中。 「FLYING KIDS」のリーダー伏島和雄氏をプロデューサーに迎え、積極的な活動を展開して いる。
2007年、ビクターのルーキースターレーベルから配信デビュー。
2009年6月、ファーストアルバム「Chunky6」をリリース。
2010年新しいアルバム「ビバリーシックス青春白書オリジナルサウンドトラック」3月にリリース
今オンラインショップTower Records・AmazonとItunesに発売中