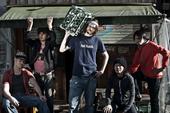 The Mootekkis are a five-piece hard rock band formed in Tokyo midway through 2008. The line up consists of Mike (vocals), Jude (lead guitarist 1), Koji (lead guitarist 2), Masafumi (drummer) and Yocchan (bass); that's one Australian, one American and three Japanese guys. Relying largely on their instruments and the linguistic-enhancing powers of beer to communicate, The Mootekkis have combined eastern-style proficiency with a wild-west mentality to create an outlandish kind of rock.
The Mootekkis have played over a couple dozen shows around Tokyo in their first year, five of which were packed into July, including a show where they closed for Four Minutes Til Midnight, funk rockers from San Diego. Live performances are frenetic, stoked with raw-energy and enigmatic dance moves which have earned the band a steady flow of invites back to some of Tokyo's big-name live-houses.
Most recently they won Japanzine's battle of the bands in 2010 and were featured on the free magazine's June cover. The MootekkisThis band is making big strides in a short time and should definitely be watched out for.
。。。
Mootekkisは2008年の中頃で東京で誕生したの5ピースハードロックバンドである。その中でのメンバーはマイク(vocals)から、ジュード(リード・ギター1)、Koji (リード・ギター2)、Masafumi (ドラマー)およびYocchan (低音)成っている; 1人のオーストラリア人、一人のアメリカそして3人の日本人であるバンド。
現在東京で様々のイベントを参加したり、しかも2010年の夏に無料雑誌JapanzineのBattle of the Bandを優勝しました。かなり将来あるのバンドなので是非チェックしてください