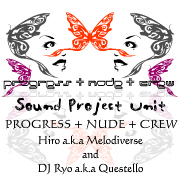 Hiro a.k.a Melodiverse and DJ Ryo a.k.a Questello make up the track making hip hop duo Progess+Nude+Crew.
Originally formed in 2008 by Hiro. DJ Ryo later joined in 2009.After making mostly re-mix CDs they have branched into original music. Working with different aritsts to bring their unique Hip Hop sound to life.
Their first original album "Sensualizmusic" featuring various artists was released in Feb 2010 and is on sale in in stores and online now. It will be released overseas in March 2010.
ファストオリジナルアルバム「Sensualizmusic」発売中!
Hiro a.k.a. Melodiverse
出身地:青森県
P+N+Cのリーダーであり、トラックメイカー、イラストレーター、Webデザイナー。
高校時代にHip-Hopと出会い、mixiで自作曲を他の人が披露してるのを見て
『自分もこれは作れるんじゃないか?』という勘違いをキッカケに
自分でもトラックメイクを開始。
一年後には収録曲33曲全て自身によるRemixというMixCDを発表。
更にその半年後には同じく収録曲全てMelodiverse RemixというMixCDを
DJ Ryo a.k.a QuestelloがMixして発表。
美しい旋律を好むが、しっかりした太いビートを共に愛する。
初めて聴いたHip-HopはKRS-ONEのThe MC。
それに続けてJeru Tha DamajaのCome Clean。
とてもじゃないが当時は聴けなかったという噂。
本業があるので人前には滅多に出ないが、出た時はうるさいという・・・。
DJ Ryo a.k.a Questello
出身地:東京都
P+N+CのDJでありプロモーター。
青森在住のMelodiverseに代わり、アグレッシブに活動。
10年以上のキャリアで培ったDJ PLAYは 多くのリスナーから支持を受け、
都内をはじめ埼玉、茨城、千葉などで活動中。
歌モノをこよなく愛しUS/UKを問わず、 定番からレアモノまで
メロウ&スムースな選曲で 初心者からコアなR&Bファンまでを唸らせている。
また自身が主催するEVENT『DROP』 では アーティストの育成に務めている。
今後の活動に期待の声が大きいDJである。
そして彼もうるさいという・・・。