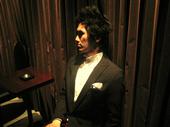 Soulful singer-songwriter Hironori Abe picked up the acoustic guitar for the first time after a chronic illness forced him away from basketball. He began with J-pop music, moving on to The Beatles and more as his tastes diversified.
Later, after a period of time with a rock band, he found at a local CD rental shop something that would help change the course of his musical path: Babyface's  classic "For The Cool In You".
He began listening to more R&B and soul music. Leading to him discovering Stevie Wonder's "Lately". Which moved him to voice training  so he could one day sing the song himself.
After working with various groups and studying music arrangement, Hironori Abe stepped out on his own for a solo career in 2008. He is currently performing in and around the Tokyo area.
阿部 仁則 (アベ ヒロノリ)
持病のため断念したバスケの代わりに、
13才でアコースティックギターを手に入れる。
J-Popを中心に練習を始め、じょじょにThe Beatlesなどの洋楽へと
幅を広げてゆく。
ロックバンド活動まっただ中、立ち寄ったTSUTAYAで出会った一枚が
Babyface 『For The Cool In You』
ここから、R&B ,Black Musicに興味を持って聴き始める。
学生時代をギターとバンド活動に捧げるなかで
第二の転機となったのが、
Stevie Wonder 『Lately』
この曲を歌いたいがために歌の練習をスタート。
のちに、Houseを基調としたグループや、
アコースティックサウンドのユニットで
都内のライヴハウスやカフェでのライヴ活動を続けるかたわら、
ヴォイストレーニングと作曲&アレンジのレッスンを受け、
自分のスタイルとスキルを磨いてゆく。
2008より、ソロのシンガーソングライターとして、
新たなスタートを切る。