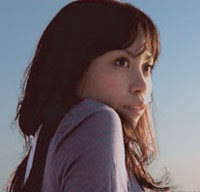 Hokkaido native and Soul singer Mahya first made her major debut with the group Soul Lovers in Japan. She gained a good amount of performing experience and released 3 albums with the group.
Their third album 2002's "Mata Sayonara" was their last and Mahya went on to work independently as a vocalist and artist.
Since then she has worked with a number of indies artists and guested on their albums, inlcuding DJ Mitsu the Beats on his "NEW AWAKENING" album in 2003.
In 2007 she released her first solo album "Inner Explosion" which is available via her label planetgroove or through Juno Records
The soulful mother of one is currently living, writing, and working at her own pace in the Hokkaido area. Be sure to check this young artist's sweet soulful grooves.
….
北海道釧路出身。北海道の大地が育んだ大きな愛に包まれた一児のママ。
2000年SOUL LOVERSのメンバーとしてメジャーデビュー。
山下久美子への楽曲提供、はっぴいえんどトリビュートアルバムへの参加、
ワンマンライブを大盛況にしつつも、02年サードアルバム『また、さようなら』を
最後に、惜しまれつつもSoul Loversの 活動を休止。
Vo.として、アーティストとして、そのフィールドをより自由な場所に置く。
2003年DJ Mitsu the Beats ファーストアルバム「NEW AWAKENING」収録「MUSIC MATE」,
2005年GAGLE「BIG BANG THEORY」収録「糸電話」
2006年grooveman Spot「ETERNAL DEVELOPMENT」収録「Something Like A…」に
フューチャー されている。
2007年初ソローアルバム「Inner Explosion」をリーリス
現在は自然広がる北海道にてマイペースに創作活動中。