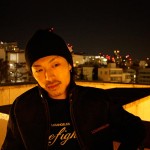 Japanese Hip Hop artist inori actually began his music career playing guitar in live house venues.   He later discovered he had a talent for DJing and trackmaking. Combined with his unique rap skills he performed around the Tokyo area and was eventually featured on other artists albums.
His skills garnered him notice from international musicians and he went on to work with artists like UGLY DUCKLING, C.L. Smooth, DJ Krush, The 49ers and more.
Since then he has managed to go from the underground scene to the majors working under the SONY umbrella with Club music label Platinum Gate.
His first mini album Bloom Jazz is on sale now via iTunes, Amazon and Tower Records. With its balanced  mix of Jazz and Hip Hop style, it gives us a good view of what inori is capable now and in the future.
…….
14歳ですでにギタリストとしてライブハウスに出演。ルーツをバンドスタイルとしながらも独自の世界感を貫きラッパーとして都内を中心に活動。またDJやTrack Makerとしての才能も開花させ活動範囲を広げていった。
2006/5/24..より「ANABA UNDER G-MIX VOL.2」に参加。2007/11/5..よりShade & Blu-Swing「JAZZYSTER」"斬 feat. inori, TEKI-NE"に参加。
日本のアーティストから海外のアーティストまでその競演は数多く、UGLY.DUCKLING来日公演での客演セッションや、C.L.SMOOTH, DJ KRUSHが出演した"carhartt presents bathroom"の東京公演ではオープニングアクトのLIVEを成功させ、2度目の来日ではDJとして参加。また、日本でAIをプロデュースした事でも 有名なSTEPH POCKETSのJapan Tour 東京公演にも参加し、SPECIFICS, THE 49ERS, THINK TWICEらの海外アーティストとの共演も果たす。
アンダーグラウンドシーンで活躍する中、メジャーシーンへのアプローチも行い、SONY MUSICのSDグループが主催するクラブ系アーティストの登竜門、PLATINUM GATEに参加、数ある応募者の中から上位6組まで残り、DJ Yuichiro from Milk Dipperと共にプレゼンテーションライブに参加するなど、精力的に音楽シーンへのアプローチを続け,2009.3.Blooming JazzでCDデビュー。iTunes, Amazon, Tower Recordsなどに発売中
Black Musicを愛したSoul Dancerの父を持ち、戦後Jazz Singerだった祖父の元で、Hip Hopの枠にとらわれないそのオリジナル・フロウと世界感を確立したinoriが見せつけるJazzyなトラックは、時に人肌の温もりと同じような暖かさ に包まれ聞く人を魅了する。幼少の頃からさまざまな経験を重ねた過去があるからこそ吐き出されるメッセージの強さを感じて欲しい。