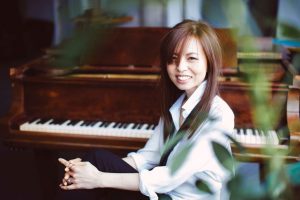 Yoshino Nakahara is a multi-talented professional pianist, composer, arranger and bandleader who has performed internationally, and with highly acclaimed musicians such as Gilad Hekselman, E.J. Strickland, Chad Lefkowitz-Brown, Kiyoshi Kitagawa, Yosuke Inoue, Tivon Pennicott, Nori Shiota, Ken Ota, Hidenobu "KALTA" Otsuki, and Ryujin. She is an accomplished musician and a brilliantly skilled pianist described as having beautiful tone, rich harmonies, incredible rhythmic control and great influence from various musical genres.
One of the top and most popular jazz pianists and composers, Grammy nominee Taylor Eigsti, who was described as "the most amazing talent" by Dave Brubeck, says: "Yoshino is an extremely rare talent…An exceptionally gifted pianist with extensive rhythmic control". 
After hearing and playing with Ms. Nakahara, Gregory Hutchinson, who is described as "the drummer of his generation" in Jazz Magazine and is one of the most highly respected musicians of our time said : "Your time feel is surprising. I know many pianists, but it is rare to see a pianist who plays such adventurous improvisation like you." He described her as a pianist who "transcends time signatures".
As a composer, Ms. Nakahara has gained a distinguished reputation. She is described as  "a composer with a great knowledge of harmony and varied melodic ideas". Hailed as "Yoshino's writing has instantly memorable melodies and each section is extremely well-connected.", "Her compositions give the audience the desire to listen more", Ms. Nakahara's compostions are  " flawlessly written, always captivating, and structurally impeccable."
Ms. Nakahara has also received accolades for her work as an arranger. Sound engineer of the famed venue The Bitter End, Ryoji Hata said: "the arrangements seemed to focus on how the music comes across as a whole." Throughout her career, she has been exposed to various genres and styles that have influenced, and helped to shape her into a rich, unique and impressive arranger.
In 2009, Yoshino came to the U.S. and started to fully concentrate on studying Jazz Piano at the most prestigious jazz college, Berklee College of Music with the World scholarship. She developed her techniques and knowledge for performance, composing and arranging. She was honored to receive the Professional Music Major Achievement Award in 2011 for her outstanding musicianship and contribution.
fter graduating from Berklee, Ms. Nakahara moved her home base to the main jazz scene, New York. She has been performing with her astonishing band at several prestigious venues such as Rockwood Music Hall, Metropolitan Room, Somethin' Jazz Club and Tomi Jazz regularly. She leads some of the best and brightest musical talents such as Kiyoshi Kitagawa, Gilad Hekselman, E.J. Strickland, Tivon Pennicott, Chad Lefkowitz-Brown, Leon Boykins, Jeff Miles, Evan Sherman, Peter Kronreif, Kenji Herbert, Shin Sakaino, Hironobu Saito, and Cesar Joaniquet. She played every week as the "Artist of the Month" at Tomi Jazz in September 2012. She also has been invited to perform in the Talent Showcase at Metropolitan Room which is the established event that Music industry professionals pay a great deal of attention to. She has been playing as a sideman at such popular venues as Zinc Bar, Showman's Jazz Club. She has played Gospel at Church and also shared the stage with Japanese famous pop, R&B singer Ki-Yo. She has been a member of veteran singer, Ms. Blu's Blusical City Band and R&B/Soul group, Ruby and the soul system.
As a recording artist Yoshino has gained an accomplished reputation. She has recorded Japanese popular composer Hideakira Kimura's compositions for Nippon Television Music Library, Android Applicaion and many other projects. In 2013, she arranged and recorded for TBS drama "Undercover Agent Tokage. She currently composes, arranges, and records piano performance for various singers and bands. 
In 2015, Yoshino released her first album "A Ray of Light" recorded with her quartet in the U.S. and in Japan. The album has been selected as one of the "Pick-up" albums of September 2015 and has been listed as one of the "Pick-up Titles by "The Walker's". 
In Japan, she has been performing with the most popular musicians, Ken Ota, Hidenobu "KALTA" Otsuki, Ryo Ogihara, Satoshi Yoshida, Akihiro Nishiguchi, Takayuki Doi, Ryuta Sakamoto, to name a few. The live recording of her show at JZ Brat was streamed on JJazz.Net for a month in 2015. The venues she has performed include NARU, Alfie, KAMOME, Mister Kelly's, and No Bird. In 2017, she went on her first national tour and made an appearance on a radio show. She collaborated with acclaimed traditional Japanese instruments ensemble "Ryujin" as a guest performer.
Yoshino wrote a series of articles titled "Jazz in New York" on JJazz.Net. She has been chosen as one of the most successful Japanese musicians performing on the global stage by various media.
Ms. Nakahara's foundation of knowledge, coupled with her technical mastery of the piano, playful musicality, remarkable musical input and output, and professional musicianship render her an ideal selection for a wide range of musical productions
…..
4歳でピアノを始め、早い時期から絶対音感を自覚。ヤマハ音楽教室でクラシック演奏や作曲、アンサンブルを学び、幼少時代より作曲で多くの賞を獲得。
慶應義塾大学を卒業後、一般企業に就職。趣味でアルトサックスを手にしたことをきっかけに、ジャズと出会う。ジャズ・ライブに足繁く通う中、「ピアノでジャズ演奏を学びたい」と、ジャズ・ピアニスト今泉正明に師事する。
バークリー音楽大学より奨学金を獲得後、2009年に渡米。2011年、「Professional Music Major Achievement Award」を受賞。ボストンで演奏活動を開始し、 地元ラジオ局等に出演。クラシックのコンサートやミュージカルでも演奏。
2011年卒業後、拠点をニューヨークに移し、北川潔、E.J. Strickland、Gilad Hekselman、Chad Lefkowitz-Brown、Tivon Pennicott等トップクラスのミュージシャンをバンドメンバーに迎え、ライブ活動を行う。2012年9月にはTomi Jazzの「Artist of the Month」に選ばれる。2013年1月には週刊NY生活に特集記事が掲載される。Jazz ,Blues, R&B, Pop, Fusion等、様々なジャンルのバンドでサイドマンとして活動 。2014年4月には、所属するGregory McDowellバンドでの演奏の様子がNew York Timesに掲載される。Zinc Bar, Rockwood Music Hall, Metropolitan Room等の著名なライブハウスで演奏。その他、音楽学校でピアノやフルートの講師として、また教会でオルガン奏者としても活躍。
2013年、TBSドラマ「潜入探偵トカゲ」のサウンドトラックに、自身でアレンジしたソロピアノ演奏が収録される。TV向けのミュージック・ライブラリーの楽曲、スマートフォンアプリのBGM等の演奏、またドラマ、映画、CMの音楽のアドバイザーを務める。
2014年、 初の帰国ライブを行い、大好評を博した。2015年に、ニューヨークにて自己のバンドでレコーディングした1stアルバム「A Ray of Light」をリリース。収録曲がニューヨーク、サンディエゴ等のラジオで放送される。
太田剣、大槻カルタ英宣、荻原亮、山本連等とライブを重ね、御茶ノ水NARU、Alfie、No Bird、KAMOME等に出演。2017年に初の日本ツアーを実施。FM京都 @station HATS UPにも出演。シンガー への楽曲提供や、バンドのライブ楽曲のアレンジ等も行っている。2018年には、1stアルバム参加メンバーChad Lefkowitz-Brownをニューヨークより迎えて東京にてライブを行い、2019年にはヨーロッパを代表するサックス奏者Pekka Pylkkänenの日本ツアーにメンバーとして参加した。
2020年、2ndアルバム「Eve」と3rdアルバム「Covers: Dramas of Our Lives」を同時リリース。