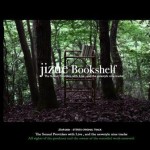 Formed in 2007, jizue is an alternative jazz band started by core members and childhood friends Norimasa Inoue(gt),Tsuyoshi Yamada(bs) and Shin Kokawa(dr). These members brought different influences into the sound of the band including Blues、Jazz、Soul、Rock and Club music.
In May of the same year pianist Katagi Kiyori joined the band. With her classical background she helped to complete the group's current sound which mixes jazz and rock elements.
In 2008 they began recording (with the help of band member Inoue who is also a sound engineer) and began selling their CDs by hand. Their music was well received and since then they have been performing regularly around Kyoto Shiga area of Japan and more recently the Tokyo and Kanto areas.
Their first album "Bookshelf" was released in the summer of 2010 and is available online.
A very cool band to look out for.
…..
井上典政、山田剛、粉川心、片木希依の4人組。
2007.8月 バンド結成。 小学校から幼なじみの井上典政、山田剛、粉川心を中心にjizueの前身となるバンドを結成。それぞれが音楽のルーツと可能性を探るべく Blues、Jazz、Soul、Rock、Club music、民族音楽、現代音楽など様々な音楽を追求する。
2007.5月 片木希依加入。 幼少の頃よりclassicを中心に様々なジャンルを学んできたピアニスト片木希依をメンバーに迎え、現在の音楽メンバー「jizue」に至る。それぞれ が通ってきた音を楽曲の中にうまく織り交ぜ、RockやHardcoreなどRebelMusicの持つ魂を揺さぶる強いサウンドと、Jazzの持つス ウィング感、Progressive Rockの不安定さを合わせたサウンドに切なく暖かいピアノの旋律が鳴り響き、日本人特有の叙情的な心に残るメロディーを奏でる。
四人の絵描きが一枚の絵を完成させるようなステージは、聴くものに様々な風景、物語を想像させ、人が持つありのままの感情を思い出させる。
2008.10月 初自主音源を制作。メンバーでもありレコーディングエンジニアの井上により、これまで表現したかった音を形にする。
これまでに手売りのみにも関わらず各会場で好セールスを記録し、各方面でもその音源が噂を呼び、大きな反響と評価を得る。 現在は地元京都、滋賀を中心に関東方面でも精力的にライブ活動を開始
2010年4月より『瞬間の記憶』というイベントを主催
各方面の一流の音楽家達と交流を深めている。
『瞬間の記憶』の主な出演者
MONO、envy、THA BLUE HERB、Manami Morita、 野崎良太(JAZZTRONIK)、Eccy、AkiraKosemura、MEISO、環ROY、WORRIER(U.S.A)
2010.7月 アルバム「Bookshelf」(neutralnine records) を全国発売。