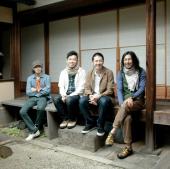 Nabowa is a Japanese organic jam band based in Kyoto.
Formed in April 2004, the group is composed of violinist Hiraku Yamamoto, guitarist Kanade Kageyama, djembe player Yu Kawakami, and bassist Itaru Horikawa, who joined in March 2006.
Nabowa started their activities as a street band. Their live performances feature musical improvisation that crosses genre boundaries, blending dub, jazz, rock, ambient, modern music, etc. Nabowa's genre-bending sound quickly gained widespread acclaim from all ages and attracted numerous live offers from multiple places including clubs, live houses, cafe, bars, department stores, temples, and wedding halls. Establishing a reputation that they create heartwarming melodies for all, Nabowa eventually generated a buzz in the street scene of Kyoto.
In 2008 they released their first album "flow" followed with an 18 city national tour.
2009 they released their mini album "view" as well as a remix album "re-flow" in CD and Vinyl.
And in 2010 their latest album "Nabowa" is on sale now in online stores and itunes.
Nabowa is currently performing in events around Japan and will be appearing at FUJI ROCK FESTIVAL 2010.
….
Nabowa
2004年4月、山本啓(ヴァイオリン)、景山奏(ギター)、川上優(ドラム/パーカッション)の三人で活動をスタート 、
2006年3月、堀川達(ベース)が加入。ストリートライブを中心に活動し、ダブ、ジャズ、ロック、アンビエント、現代音楽
など、様々なジャンルを取り入れたインプロビゼーション(即興)で構成されたライブが好評を博し、ライブハウス、クラブ、ストリート、百貨店、寺院、カフェ、バー、結婚式場などなど、瞬く間に多方面からライブオファーが殺到。聴
き手が自由にその曲を創造することができ、老若男女、国籍問わず、誰もが心奪われる暖かなメロディーが唯一無二の世界観を放つバンドとして圧倒的支持を得る。
2007年10月にはデビュー12インチ『Pole Pole/Continental Landscape』を発表、
2008年3月にタワーレコード限定ミニ・アルバム『River』、同年5月にはファースト・アルバム『flow』を発表、また、これに伴った初の全国ツアを行い各地で好評を得た。
2009 年2月にはミニ・アルバム『view』、4月にはリミックス・アルバム『Re-flow』と立て続けに発表し、今春5月12日には2年振りとなる待望のセカンド・アルバム『Nabowa』を発表!
The Baker Brothersや、Tommy Guerreroといったビッグネームとも競演し、FUJIROCK FESTIVAL'10、FESTA de RAMA'10、SUNSET LIVE 2009 & 2010をはじめ、多数のフェスにも出演、更には時計メーカー『CITIZEN ATTESA』の最新PVの音楽を担当するなど、シーンを代表する人気バンドへと成長を続けている。