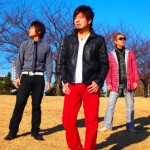 Indies Pop Rock band Noxah was founded in 2004 by vocalist Hirohide and Guitarist Sezui. They released their first album "24" in the same year.
After a few member additions over the years, Bassist Naoya joined the group officially in 2008. Giving Noxah its current form.
In November of 2009 the band participated in an Audition Music Festival in Saitama Japan. They were awarded first prize in the event and later signed with Universal Japan to make their national CD debut and released their first full album "Puzzle" in the same month.
In 2010 they debuted their mini album "THOUSANDS of SMILES ~Egau no Wa ka" and even had their own radio show.
And their last major live gig had an audience of over 400 people!
They currently performing around the Saitama and Tokyo areas of Japan while promoting their latest single "Kono yubi wo tomare".
…….
2004年ヒロヒデ(Vo) せいずぃー(Gt)の2人でNOXAHを結成。同年、1stアルバム『24』を自主制作でリリース。
その後メンバーチェンジを繰り返し、2008年になおや(Ba)が加入し、現在の編成となる。
2009年11月 埼玉県蓮田市にて行われた公開オーディションイベント『雅楽谷の森フェスティバル うたやMUSICアワード』で優勝し、副賞としてUNIVERSAL MUSICより全国CDデビュー決定!!
同月、越谷EASYGOINGSにてレコ発ワンマンライブを開催。なおや(Ba)加入後、初のフルアルバム『パズル』リリース!!
2010年4月 メジャー1stミニアルバム『THOUSANDS of SMILES ~笑顔のわっか~』を全国リリース!! 同月、浦和FM REDSWAVEにてNOXAHがメインパーソナリティのラジオ番組『Noxahですよ、全員集合!!』放送開始!!(4月~12月 現在終了)
埼玉県北区プラザノースにて行われたメジャーデビュー記念ホールライブでは動員数400人を越えた。
現在も埼玉県を中心に『笑顔のわっか』を広げるため勢力的に活動中!!