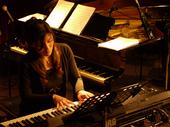 TOMOKO TOGAWA is a pianist, composer, and music arranger in Japan. She began classic piano from the age of two, and later moved on to her current musical styles of pop and jazz.
An artist with wide range, she is able work with many genres and be active as a backup pianist  domestically with various musicians. She also keeps busy by producing animation music..
Tomoko has her own group, the "Tomoko Togawa Quartet",  which is regularly in Jazz Live Houses in and around the Tokyo area.
She is a free spirit who doesn't like stick to only one genre, and this attitude can be heard in her compositions and seen in her performances.  A unique artist to get to know.
東京音楽大学付属高等学校、東京音楽大学卒業。
幼少時よりNHKや TV朝日等のクラッシック系番組に出演。
卒業後は世良譲氏の バンドアレンジ、STRINGS QUARTETアレンジ、ステージピアノを担当、ディナーショウにて氏と共演。
Popsをジャズに アレンジしたアルバム『Christmaswing』(avex trax)『Love Swing』(avex cutting edge)2004~2006年リリース。MALTA、日野テルマサ、今陽子、しばたはつみ、平賀マリカ、HIRO(SPEED)各氏らが共演参加。
2006 年故世良譲 氏追悼イベントにて、宇宙戦艦ヤマト作曲者宮川泰氏とステージ共演。
『My Little Lover』『Yoonji』『Miray』他、TV番組やCM、数多くのアーティストへのアレンジ、楽曲提供、ピアノ演奏、各ス テージプレイヤースタジオプレイヤーとして活動。
2006年よりメン バーやジャンルを固定しない自由な発想の自己ユニット『TOMOKO TOGAWA PIANO QUARTET』を結成。都内JAZZスポット、ホール、ホテルディナーショー、各地方でのイベントなどに数多く参加。オリジナル曲も評価を得て いる。(赤坂B♭、BIRD LAND.恵比寿ART CAFE,新宿センチュリーハイアット、京王プラザホテル他)
現在までの当バンド 参加ミュージシャン(ヴォーカリスト)yoonji/イ・チュンヒ/鈴木陽子/平田康子(ギタリスト)小林圭吾/LeeShungho(サック ス)石崎忍/米田裕也(トランペット)小林正弘(ベーシスト)倉多聡/横山渉/横山良一/伊藤潮(ドラマー)木村幸雄,/海野俊輔/今関和彦/石 川昇平各氏各専門学校、ヤマハ ポピュラーミュージックスクール/ジャズピアノ・作曲・音楽理論・アレンジ・イヤートレーニング各科講師。
avex アーティストアカデミー/ピアノ・キーボードステージングプレイ・作曲・アレンジ・音楽理論各科講師