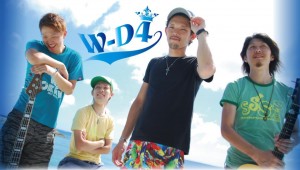 The 4 member group W-D4 is slowly but surely making in roads into Japanese indies music scene.
The natives of Shiga (an area close to Kyoto, the old capital of Japan) have a sound that is hard to characterize but seems to be strongly influenced by Pop Rock and Hip Hop. With lyrics that capture the mind and a rhythm that moves the heart, they are making music which connects them as a band and to others.
In 2009 W-D4 were doing live shows and making FM radio appearances . In 2012 their aim is to continue spreading their music around Japan.
They released their 1st mini album "nest" in 2011
………
滋賀出身の4人が互いの色を織り交ぜ曲を作っている。
ジャンルにとらわれないStyleで、心に響くLyric、心躍るrhythmにこだわり曲を作っている。
2009年沖縄に移住し、LIVE活動、ラジオ番組、フェス出演などライブバンドとして4年間活動。
2012年8月、さらに多くの人達へ想いを届ける為拠点を滋賀へと戻し活動範囲を全国へと広げた。