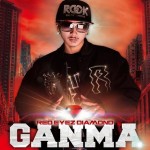 Hip Hop artist GANMA first took up the Mic at the young age of 17 and developed his style while attending nearly 100 live events a year. He then went on to do various guest appearances at clubs, live houses and concert halls in the local Kanto (Tokyo) areas then around Japan.
At 18 he began working as an event organizer and began bringing BIG PARTY events to his native Saitama as well as areas like Shibuya, Chiba and more. The Saitama event went on to become one of the most popular events in that area. He also began writing a 2 page column for the magazine 『SAIZENSEN HIPHOP』 as a way of promoting the Hip Hop scene in Saitama.
He recently established the label DEFRESHMENT. Releasing his first  album "RED EYEZ DIAMOND" in 2009 which is available online via Amazon and Tower Records.
In his 20s and with a strong sense for Hip Hop, GANMA brings a new sense of energy to the indies music scene in Japan. Check him out soon.
…….
17歳でMICを握る。
年間100本近くのLIVEをこなし続け現場重視のSTYLEで場数を踏んできた。
関東近郊から全国各地のCLUBまでGUEST出演、ライブハウスや市民会館、コンサートホール会場など様々な舞台を経験。
またオーガナイザーとしても18歳から活動を開始し、地元埼玉を軸に渋谷や千葉など関東近郊に主催イベントを展開させ毎回満員御礼のBIG PARTYを展開する。
特に地元埼玉では多大な人気と支持を得て、今では埼玉屈指の人気NO.1イベントだと非常に高い評価を得ている。 さらに埼玉のシーンを盛り上げるため、全国誌のHIPHOPマガジンでご存知『SAIZENSEN HIPHOP』にて埼玉特集ページの代表となり毎月2ページの連載を持ち、これを1年半以上継続させ地元のシーンに大きく貢献している。
主催イベントとNEWERAキャップとのコラボを始め、オリジナルウェアのデザインやプロデュースまでこなし、STREETファッション誌各誌にてモデルとしても活躍中。また、自身のラジオ番組を持ちメインパーソナリティを務める。
現在若干23歳にしてその活躍ぶりを買われ埼玉一のSTREET SELECT SHOP『Real jam』から衣装協賛がつくなど、埼玉で若手NO.1の呼び名が今最も高い超注目株!!
去年10/14にリリースした待望の1st Full Albumの記憶も新しいが、今年に入り自身のレーベル『DEFRESH ENT.』を立ち上げ今年既に2nd Albumのリリースも予定している。新世代を担う若きカリスマの今後の動向に目を離すな!!!!
■GANMA 1st ALBUM "RED EYEZ DIAMOND"
全国各CD SHOPにて好評発売中!!!!
TOWER RECORDS

■LINK URL
OFFICIAL HP
http://www.mcganma.com/
ameblo
http://ameblo.jp/mcganma/
twitter
http://twitter.com/GANMA_048
My Space
http://www.myspace.com/mcganma
mixi
http://m.mixi.jp/show_friend.pl?invite=O2qPQWAWkKRrqDIOkShvhAA5oj5MTtHS