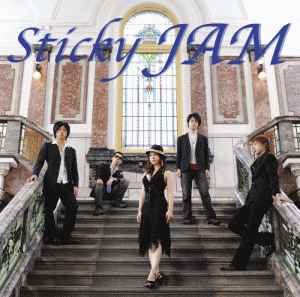 Sticky JAM is a new and vibrant 5 member pop-rock band with a sound featuring influences of rock, jazz, and funk music.
The Nagoya based band officially started in 2008. There name comes from their wish of always wanting to be a band people can groove and dance to. And with catchy melodies along with the diverse vocal style of singer rico, they are making that dream come true.
After 2 demo CDs and producing 9 original songs they made it to the final stage of JAPAN FINAL, a band contest, out of 2500 other bands from around the country.
They are now doing live shows around the Nagoya area and their CDs are available online.
The future is quite bright for this young group.
2008年4月結成。
名古屋を中心に活動する5人編成バンド。
演奏を聴いてくれた人々の心に『いつまでも残り続ける様なバンドでありたい!』と言うメンバーの想いからバンド名を『Sticky JAM』と命名。
ROCK,SOUL,JAZZ,FUNK,BLUES,CLASSICに刺激を受けた彼らの楽曲は、リスナーにも聴きやすいキャッチーなメロディーメイキ ングと、ボーカルricoによる様々な人間模様を映し出した独特な世界観の歌詞に加え、圧倒的な演奏テクニックと歌唱力で見る人々を魅了する!
★2008年11月 オリジナル3曲入り1stデモCDをライブ会場にて発売開始。
★2009年6月 オリジナル6曲入り2ndデモCDをライブ会場にて発売開始。
★2009年10月 島村楽器主催 HOT LINE2009 中部FINALにて優秀賞を獲得!中部地区代表に選ばれる!!
★2009年11月 全国2500組以上のバンドエントリーの中、中部地区代表としてJAPAN FINAL(決勝戦)に出場!!
★月間GiGS2009年12月号、2010年1月号にSticky JAMが紹介され、1月号ではBassのYasuがGiGS的Good  Playerに選ばれる!!
今後も日々急成長するSticky JAMから目が離せないっ!