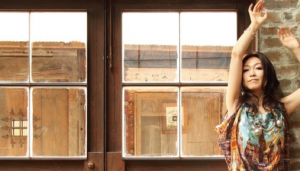 Singer-songwriter and vocalist TOYONO started her connection to music at the age of 3 when she was learning how to play the organ. Years later she discovered Brazilian music and the Portugal language. And with the simple feeling of wanting to sing in that style and learn of the culture, her new journey began.
She eventually went to Brazil and while studying the language began to study under percussionist Marcos Suzan.
After returning to Japan she began working with different units and has kept busy ever sense. In 2001 TOYONO released her first solo album "litoral" which won awards in Brazil. She followed that album with "ginga mais". With her melodic voice and happy auora she became popular among musicians  and began doing guest vocals for various acts.
She released her third album "pelicano heaven" in 2007 as well as her first cover album "Luz do sol" in 2009.
"""Her major debut album via Victor Entertainment Kurogami no Samba was released 9/21/2016
6年振りのオリジナルアルバムでビクターエンタテインメントよりメジャーデビュー。「黒髪のサンバ」 2016.9.21リリース
……..
大阪生まれ。
シンガーソングライター&ヴォーカリスト
3歳からオルガンを習い絶対音感を身に付ける。
OL時代に耳にしたブラジル音楽のポルトガル言葉の響きに、歌いたい、とシンプルに思ったのがきっかけで、 ボサノヴァやMPB、ショーロなどのブラジル音楽を熱心に聴くようになる。
96年思いが高まり単身リオデジャネイロに渡る。ポルトガル語を習得しながら、
世界的パーカッショニスト、マルコス・スザーノに師事。
帰国後99年伊藤ゴロー(g)とのアコースティックユニット"Espiritoエスピリト"で、オノ・セイゲンのプロデュースにより 「serafim」(SAIDERA RECORDS)を発表。TOWER RECORDSが選ぶ99年名盤100選にも選ばれる。 その後01年「Litoral」でソロデビュー、ブラジルディスク大賞入賞、04年「ginga mais」発表(ともにFILE RECORDS)。
またハッピーオーラ溢れるキュートな歌声に内外から熱いラブコールを受け、須永辰緒、池田正典、 伊藤陽一郎などの話題DJ作品他、高内春彦、gira mundo、「everyone knows songs」(童謡コンピレーション)などの作品に ゲストヴォーカリストとして幅広く参加。
07年8月矢井田瞳等を手掛けた片岡大志を総合プロデューサーに、斬新な発想と手腕でジャンルを超えて人気のギタリスト竹中俊二をサウンドプロデュー サーに迎え、3rdアルバム「pelicano heavenペリカーノ・ヘヴン」をリリース。
(マルコス・スザーノ、塩谷哲、沼澤尚、中西俊博、saigenji、竹中俊二などが参加。)
また同年、所ジョージのプロデュースアルバム「S.E.M.B」(avex trax)にヴォーカリストとして参加、所ジョージ・清水圭司会によるテレビ番組「世田谷ベース」に出演。
08年リオ・デ・ジャネイロ録音にて初めてサウンドプロデュースを手掛け、「Dance Classic Bossa」(Grand Gallery)(compiled by 井出靖)がリリースされる。
(マルコス・スザーノ、カチア・ベー、モスカ、TOYONO、ホドリゴ・マラニャオン、竹中俊二などが参加。)
09年5月、新ユニット「tropico uniqueトロピコ・ユニーク」にて、TOYONO初のカヴァーアルバム「Luz do sol」をリリース。ビートルズ、バカラック、カエターノ、荒井由美までポルトガル語、英語、日本語とボーダレスにセレクトされ、
また「歌+ギター+オルガン+スティールパン」という世界に類を見ない楽器編成でのユニットも話題となっている。
(TOYONO vocal 竹中俊二guitar&sound produce 金子雄太org トニー・グッピーsteel-pan)
またチェリスト柏木広樹に楽曲提供、椎名林檎、hiro(speed) などへのポルトガル語発音指導も手掛けるなど、ライブはもちろんのこと、幅広い活動を展開中。
さらなる今後の活動を期待されるボッサ・ディーヴァである。