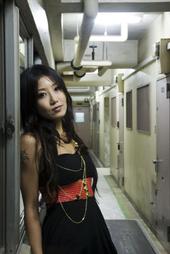 Singer Tsubasa was born in Japan but raised on the Gold Coast of Australia.
She began performing music in Australia in 2002 before coming back to Japan in 2006. Since then she has continued to do music, including live shows and events  around the Tokyo area.
Her music can be heard as a mix of bossa nova, soft jazz and folk . In her words "…detox music for the heart and soul…"..A bi-cultural background also allows her to mix Japanese and English within her music quite harmoniously.
Currently Tsubasa is working on a mini-album and should be coming to a live house near you. Check her out soon.
1981年 2月25日生まれ A型
愛知県名古屋市で生まれる。
生後10ヶ月で家族とオーストラリアに移住し、
24年間 ゴールドコーストで暮らす。
2002年からオーストラリアのクラブ、イベントで歌い始める。
2002 Xplosion Australia vs Japan K-1 Championships
日本代表として国歌斉唱。
2003 Boardroom Blitz
ベストパフォーマンスを受賞。
2006年音楽に専念するために日本に帰国。
柴田 誠と出会い、ユニットを結成。
包み込む様な美しい声と独特なファルセットでJAZZから
POPSと幅広いジャンルを網羅する歌唱力には定評がある。
現在、ファースト・ミニアルバムを制作中。
都内のライブバー、クラブ等に出演予定。