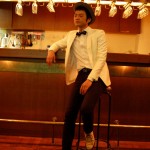 Reitaro's Travel Swing Orchestra is very unique in that they mix elements of Pop Rock and Big Band music styles. Something not often seen since the Tokyo Ska Paradise Orchestra in the 90s.
Boasting anywhere from 5-10 members at a time, the band features a grooving horn section. Band leader Kimiyo Reitaro in his words "Brings some kinky musicians together to make soft styled hard hitting open fly music " Meaning the music is damned good.
Their first album "King of Music" was released in 2008 and is available on iTunes Japan. They also released their version of the classic Disney song "When you Wish Upon a Star" which can be heard on the 2010 "Disney Rocks" album.
**Their new album "Golden Time" out now!  More info here
…….
シナトラ気取りのフリークスとガラスのハートにワサビを塗りすぎた5名から10数名のキンキー・ミュージシャンズが、 春の入学&ファースト・キッス・シーズン、微熱なフォーエバーヤングスに贈る、 ソフト問題児×ハード迷子な栄光のオープンチャック・集団ダンス・ミュージック! 南コロンビアのチョコな路地裏から聞こえる薫り高いトランペット&ボーンに ニューハンプシャーのファットな高級マンションからこぼれるスリンギーな鍵盤を シェイクした千客万来のビッグ・ダッチ&モブサウンズ!つかめグラミー賞4部門! 100万光年のファンタスティックな夜、あまりある情熱はたぶん太陽のわすれもの!
"FIRST ALBUM「キング オブ ミュージック」"  現在iTunesで発売。
クラッシクな曲「星に願いを」をっカバーして2010年の[Disney Rocks]アルバムにも参加
現在新アルバム[Golden Time]オンラインで発売中!