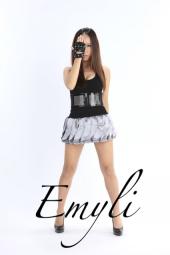 Tokyo native Emyli is the daughter of  an R&B singer and attended American School from  Kindergarten to High School. Factors which may have helped to influence her taste in music and current style.
Interestingly her background starts with ballet dance at the age of 3. She began Hip hop dance at 7 and became more focused on singing from the age of 11.
Her talent was clear from the start as she got her first major record deal 3 years later and made her debut at the age of 15!
Her distinct vocal skills, dance background and stage presence eventually led to her working with the popular Japanese Hip Hop music team M-flo on their m-flo loves..albums.  At 16 Emyli toured with m-flo around Japan on their 10th anniversary tour.
Working solo Emyli has released  5 singles and the album "Flower of Life"
She is currently working as a composer for other artists while preparing to release her newest single.
Check out this young and outstanding international talent soon!
…
東京生まれ。現役の女子大生。R&Bシンガーの父親の元、幼稚園から高校までアメリカンスクールに通う。
3才からバレエ、7才からヒップホップダンス、11才からボーカルを本格的に始める。
14才でメジャーレコード会社と契約し、15才でデビュー。
その卓越したボーカルテクニックとダンスを基本としたパフォーマンスの素晴らしさを買われ、デビューまもなくm-floのLovesアーティストになり、16才から2010年のm-floの10周年コンサートまで、 m-floの全ツアーに参加。
ソロ作品として、シングル5枚とアルバム"Flower of Life"をリリース。
"Flower of Life"は、本人が14才からレコーディングしたR&Bテイストのポップチューンのベスト盤と巷では評価された。現在、シンガーだけとしてではなく、作家としてもアーティストに楽曲提供をして音楽業界で幅広く活躍している。