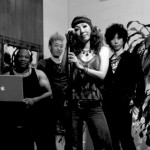 The start of Pop-Soul group Velvet Headz began after producer-musician Tetsu and vocalist Maiko worked together covering the Japanese song "Nagori Yuki". The duo really clicked during the collaboration and a music partnership developed from there.
As musicians are able to work with various styles, genres, production and marketing methods, their concept is of freely spreading an artists original sound to the world. The group Velvet Headz started officially in March of 2009.
Their first single "Tsu Ba Sa-Wings to Fly" is available via itunes now!
Their new single  is coming soon…
…
2006 年VH誕生のきっかけとなる「なごり雪」のカバー曲制作通じ、TETSU と MAIKOとが意気投合。音楽のジャンルやスタイル、制作時間や販売方法にとらわれない活動が今ならできるはずと、自由にミュージシャン本来の音を世に出すことをコンセプトとして掲げる。
2009年3月Velvet Headzとして本格始動。
現在VHのファストシングル「Tsu Ba Sa-Wings to Fly」 Itunesで発売中!
そして新しいシングルもまもなくすぐ。。。