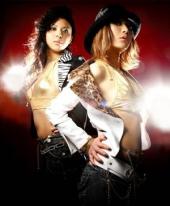 R&B HIP-HOP unit Adorable Groove was formed by singers Mie and U (Yuu) in 2006.
The two lovely singers with strong club, hip hop and R&B backgrounds took the name Adorable Groove and have been grooving ever since.
The young ladies have taken the standard double singing style and added a new vibe with their contrasting soft and strong characters and unique melodies.
They are currently performing on the club scene around the Tokyo area and will be releasing their first mini-album "Kimi Iru Kara" is out now!
R&B HIPHOP ソウルなどのブラックミュージックをバックボーンにした  女性2人組 ソウルユニット
2006年7月にシンガー U(ユー) とシンガー Mℓie(ミエ) が出会い、 Adorable Groove (アドーラブルグルーヴ) として活動スタート
二人の女性シンガーそれぞれの確かな実力と、スタンダードなクラブ系ミュージックを軸に、女性としての魅力的な・愛らしさ 【ADORABULE アドーラブル】を表現する
二人組ユニットのダブルボーカルというスタンダードなスタイルの中に、 ハードとソフトのキャラクターと女性らしさが混在した、メロディは特徴的でもあり、メッセージ性も強い
ライブ活動においても、そのパフォーマンスにおいても常に女性らしさをダイレクトに訴えかけ、クラウドよりの評価も高く、現在都内のクラブを中心に、精力 的にライブ活動を展開中
『きみがいるから』 Adorable Groove発売中
収録6曲 定価¥2.000 (税込)
1.KISS of GAME
2.PLAY BOY
3.I want
4.I still love you
5.Step by step
6.きみがいるから
Adorable Grooveからのメッセージ:
只今サマーソニックの出演オーディション『出れんの?!サマソニ?!』に参加中です!
※投票期間は6/22〜7/13
良ければ投票して頂けると嬉しいです!
ちなみに一日一回投票可能です^^
応援宜しくお願いします!!
↓直リンクはこちら↓
PChttp://emeets.jp/pc/artist/3410.html
携帯QRコード

LIVE情報
宴Project
【女の宴 Luv.8】
2010.6.26(SAT)
@渋谷チェルシーホテル
〜〒150-0042 渋谷区宇田川町4-7 トウセン宇田川ビルB1
TEL:03-3770-1567
Open24:00〜
男の子\2500/w1Drink
女の子\2000/w1Drink
※入場(18歳以上)の際IDチェック"写真付身分証"が必要です。必ずお持ち下さい
女宴HP))http://ip.tosp.co.jp/i.asp?i=utagegirls
mixiコミュ))http://m.mixi.jp/view_community.pl?id=4423559&guid=ON
7月2日(金) SOUL INTO MUSIC presents『VS』
場所 渋谷RUIDO K2
OPEN/17:45 START/18:15
前売り2000円+1D当日2500円+1D