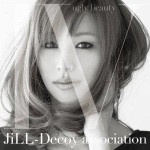 The JiLL-Decoy association began its formation in 2003.  With the vocal range of chihiRo, the various music skills of kubota on guitar and towada on drums, they have created their own unique Jazz and Funk crossover sound.
They show off their music and stage presence regularly at live shows concentrated in the Tokyo Shibuya area. Their album "JiLL Decoy association III" is on sale in stores and online now.
*JiLL-Decoy's newest 10th anniversary album "Lining" is available in online music stores including Amazon and iTunes!
…..
JiLL-Decoy association (ジルデコ)
02年結成。伸びやかな歌声にヴィジュアルも兼ね備えたchihiRo(vo)と、それぞれ本格的な音楽留学を経験したkubota(g)とtowada(ds)の三人が生み出す、JAZZ/FUNK/R&BをベースにしたオリジナリティあふれるPOPSがクロスオーバー・シーンで話題となる。渋谷を中心に精力的にライブを行っていき、確かな演奏力によって中毒者を増やしていく。
Bunkamuraザ・ミュージアム [スーパーエッシャー展] のイメージソング「アイロニー」を含む三枚の先行シングルの後、07年4月、待望の1stアルバム『ジルデコ』を発表。クラブカルチャー誌『FLOOR.net』の表紙を飾り、その年末にはタワーレコード『bounce』誌の"OPUS OF THE YEAR 2007"の一枚に選出されるなど高い評価を得た。高濃度なミニアルバム『no name collection』を挟み、08年7月、映画などいくつかのタイアップ楽曲を収録した2ndアルバム『ジルデコ2』を発表。
09年には、JAZZクラブでのプレミアLIVE「ジルデコ・ラウンジ」とライブハウスでのPARTYイベント「ジルデコ・フェスタ」(共演:akiko/JABBERLOOP/dorlis等)という2つのレギュラー・イベントをスタートし、より一層LIVEアーティストとして可能性を広げていく。そして、10年2月に3rdアルバム『ジルデコ��』を発表。セッション仲間であるSOIL&"PIMP"SESSIONSやquasimodeのメンバー、島裕介や45 a.k.a. SWING-Oなどクラブジャズ・シーンを代表する多数のミュージシャンが参加し、ジルデコ史上最もクールで濃厚な作品となった。
現在ジルデコの10周年のため新しいアルバム「Lining」オンラインショップで発売中