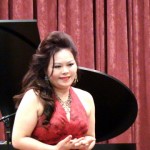 Ortansia, the daughter of a medical doctor, spent her formative years in Japan before going to England, where she earned a doctorate from the University of Oxford in philosophy and intellectual history.
Music, however, has always been her first love and, encouraged by Professor Boris Tishchenko, Professor of Composition at the Rimsky-Korsakov Conservatory, St Petersburg, Russia, she has embarked on her new chosen career as composer and singer.
She has released two albums to date: 'Silent Heart' (2005) and 'A Secret' (2007). Four songs have already had success in international songwriting competitions: 'Cafe Window' (finalist in the 'Song of the Year' Songwriting Competition in Houston, Texas); and 'Christmas is Near', 'Think of Me', and 'What Is the Colour of Her Eyes') (semi-finalists in the UK Songwriting Contest).
Many of her songs have also been included on compilation albums in The USA and Japan. She currently lives in Tokyo. Her albums can be bought online via cdbaby: link 1 link 2
Take a moment and check out this wonderful vocalist.