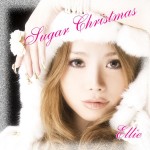 In her teens Japanese R&B singer Ellie deeply connected with the music of Mariah Carey.
From then, on her own, she made her way to the US. Once there she had the opportunity to study music composition under a top artist often featured on LA's number 1 radio station power 106fm.
Her success didnt stop there. She returned to Japan and officially entered its music scene.
in 2008 she experienced increasing popularity on the club scene and in 2010 started performing as the opening act for major Japanese musicians MAYS and MAY J.
She also released her first single "Sugar Xmas" in Nov 2010, which is available now on iTunes. Check it soon!
………
Mariah Careyに憧れ10代で単身渡米。
本場US仕込みのR&Bシンガー。
LA No.1ラジオ局POWER106率いるトップアーティストから
作曲を学ぶなど順調に活躍の場を広げ、
更なる飛躍を求め日本のミュージックシーンへ。
2008年日本のクラブシーンに登場するやいなや、
圧倒的な歌唱力が話題を呼んだ 今大注目の新人アーティスト。
活動の拠点を日本に移した2010年夏、
DEEP,清水翔太といった日本の音楽シーンに欠かせないアーティストのオープニングアクトを果たす。
2010年12月1stデジタルリリース「Sugar X'mas」配信
「今年のクリスマスは話したいことがあるんだ」
普段は言えない…だけど特別な日だから話せる女性の素直な「彼」への気持ちを綴ったリリックを暖かいピアノのメロディーに乗せた極上のラブソング。
C/Wには一転ファンキーなギターカッティング、ホーンが印象的なトラックでセクシーボイス&リリックなミッドナイトR&B「BLACK $UGAR」」を収録。
ライブ情報
7/31(Sun) Sweet breath at青山LOOP OPEN 17:00~
Blog
http://ameblo.jp/westsidellie/