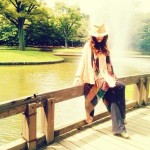 Healing soulful vocals and captivating melodies is what encompasses the Free Soul sound of singer Sparkling Cherry.
Studying piano from 3 yrs old to 15, she later began her music career in 2007.
Influenced by soul legends like Stevie Wonder and Donnie Hathaway, she quickly garnered attention and between 2011-2012 has made frequent appearances on FM radio.
She released her first album "Ippo" (First Step) nationally in August 2012. At the moment if you are overseas you can check out her music via Myspace.
If you have a chance to check Cherry's sparkling but mellow live show, definitely do so.
……..
2007年より活動開始。
ソウルミュージックを基調にしたサウンド、しなやかで、凛としたメロディ。
そして、聴く者を優しく抱きしめる、唯一無二な言葉達を紡いだ歌詞。
cherryのヴォーカルは、正にFree Soulの今を指し示している。
主な活動場所は渋谷・下北沢など。
影響されたアーティストにStevie Wonder,Donny Hathawayを挙げる。
2011年11月11日に11曲入りアル バム「ippo」をリリース!
2012年8月22日(水)全国発売決定!!
熱くMellowなステージを一度、体験してほしい。